<![if !vml]>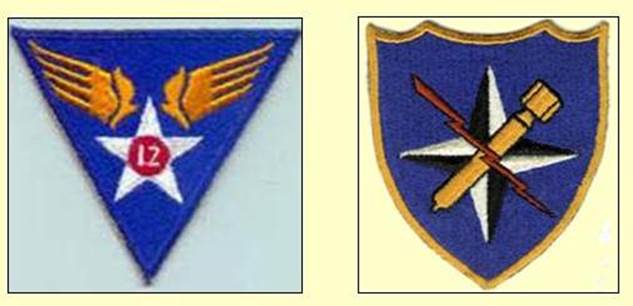 <![endif]>
12th AIR FORCE
57th BOMB WING
340th BOMB GROUP (M) 
MISSIONS AUGUST 15, 1944 PM
D-DAY SOUTHERN FRANCE
<![if !vml]>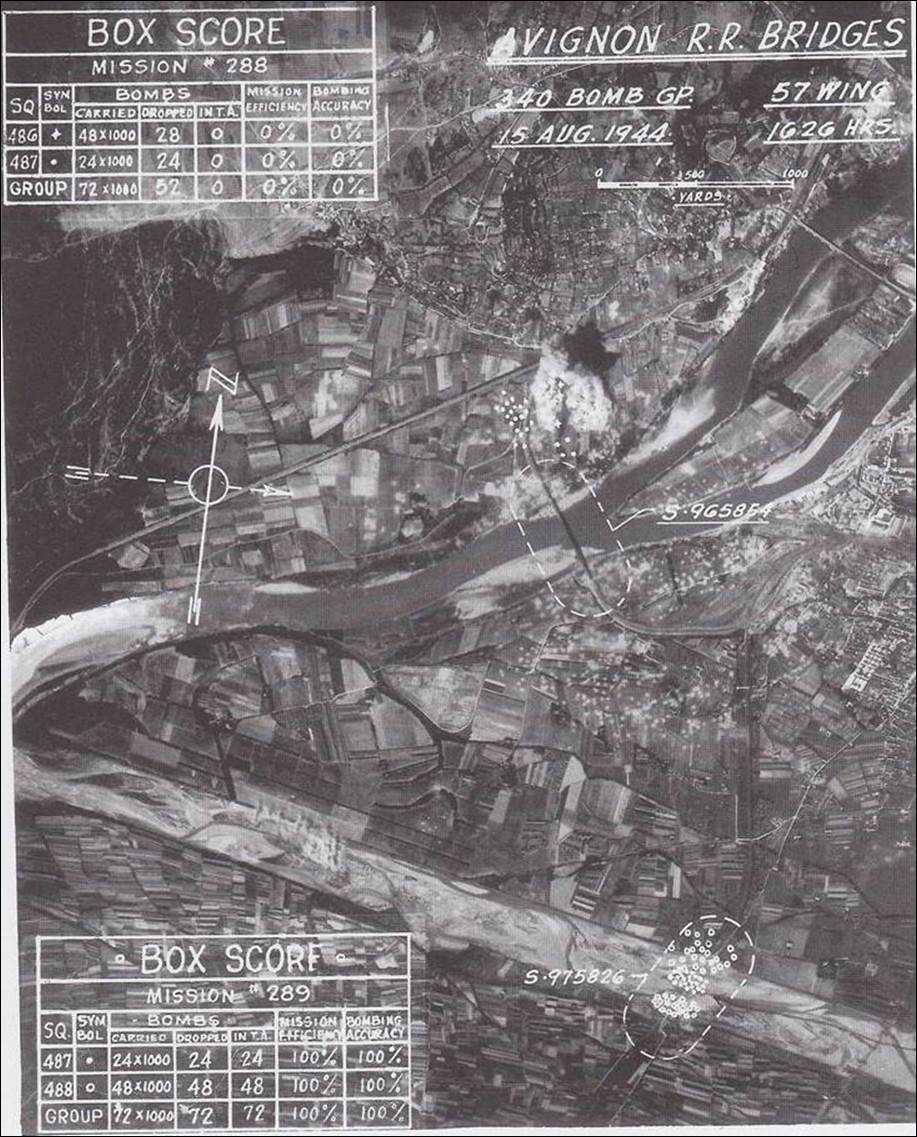 <![endif]>
Simultaneous Missions on Avignon  
486th, 487th , 488th ,and 489th Squadrons of the 340th Bomb Group on August 15, 1944
<![if !vml]>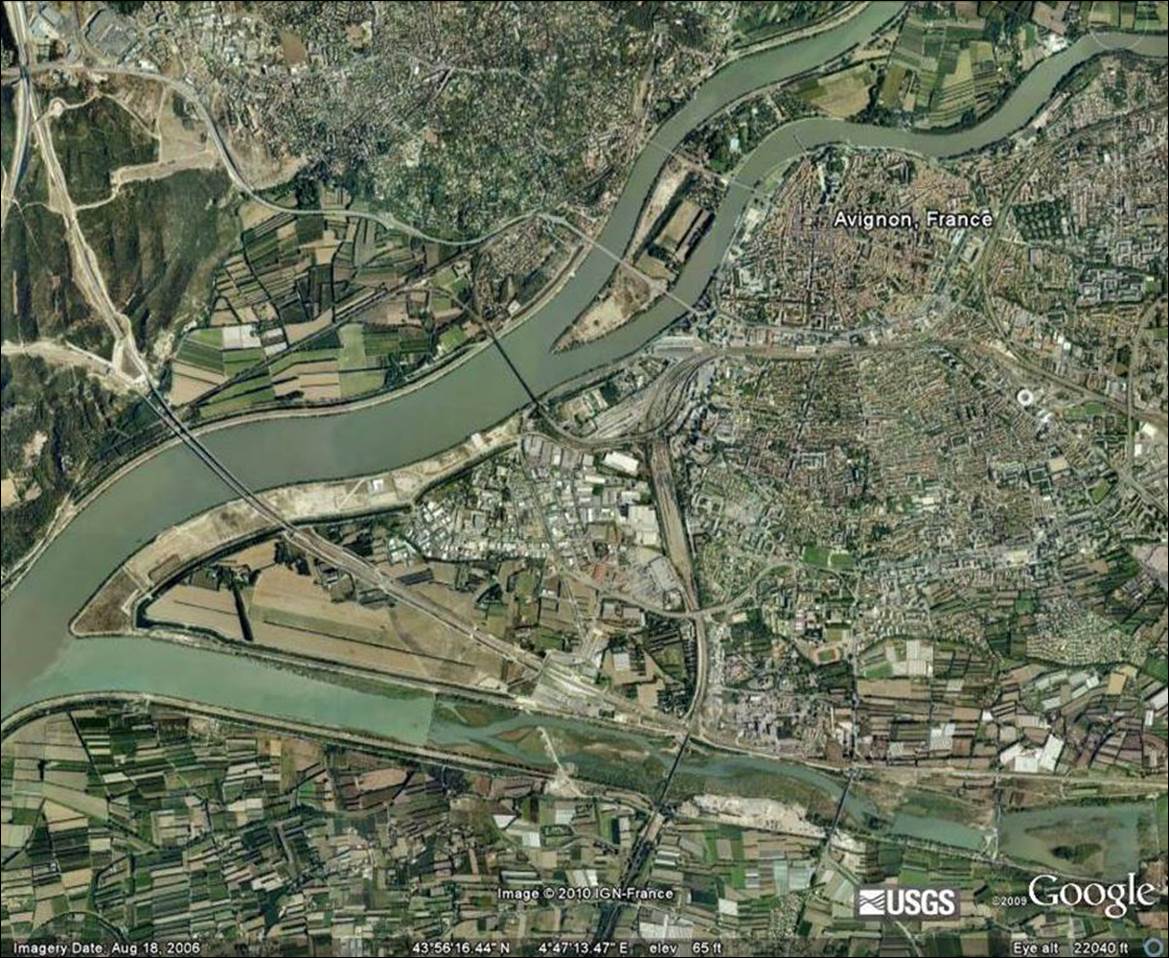 <![endif]>
Avignon, France today
<![if !vml]>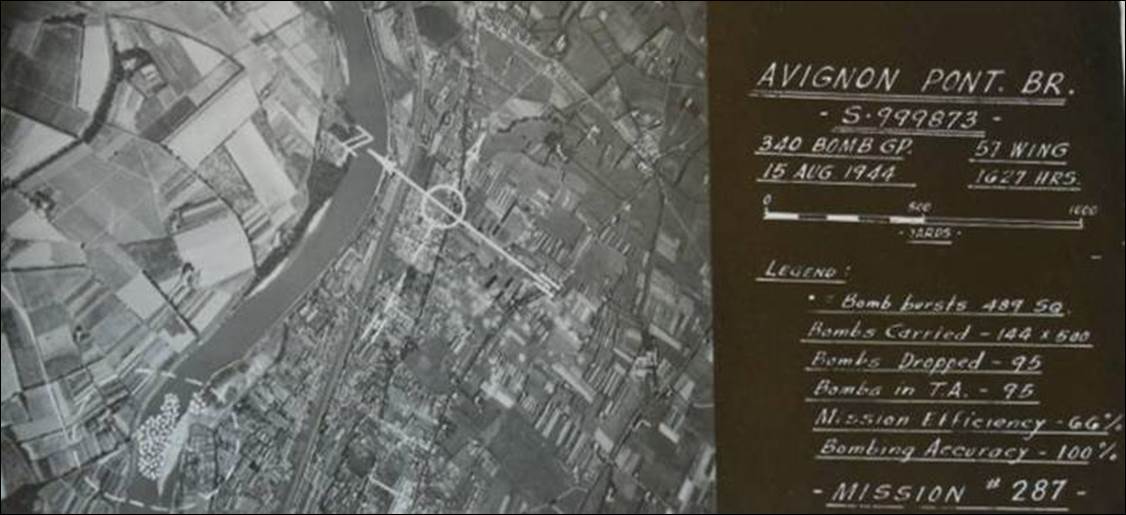 <![endif]>
<![if !vml]>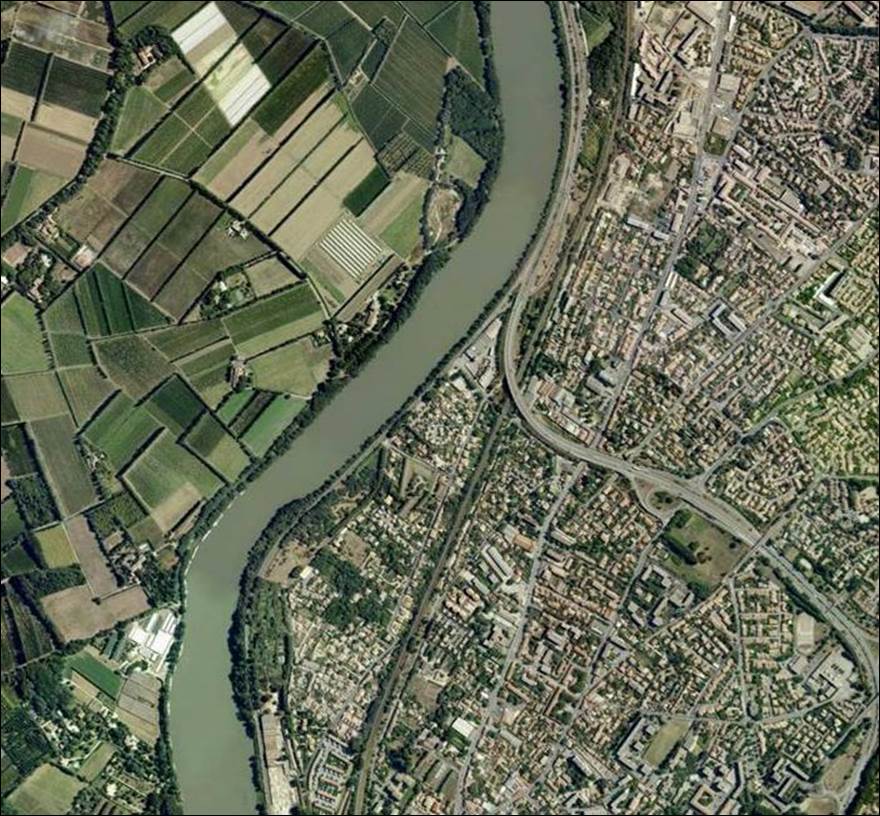 <![endif]>
Avignon, France today
<![if !vml]>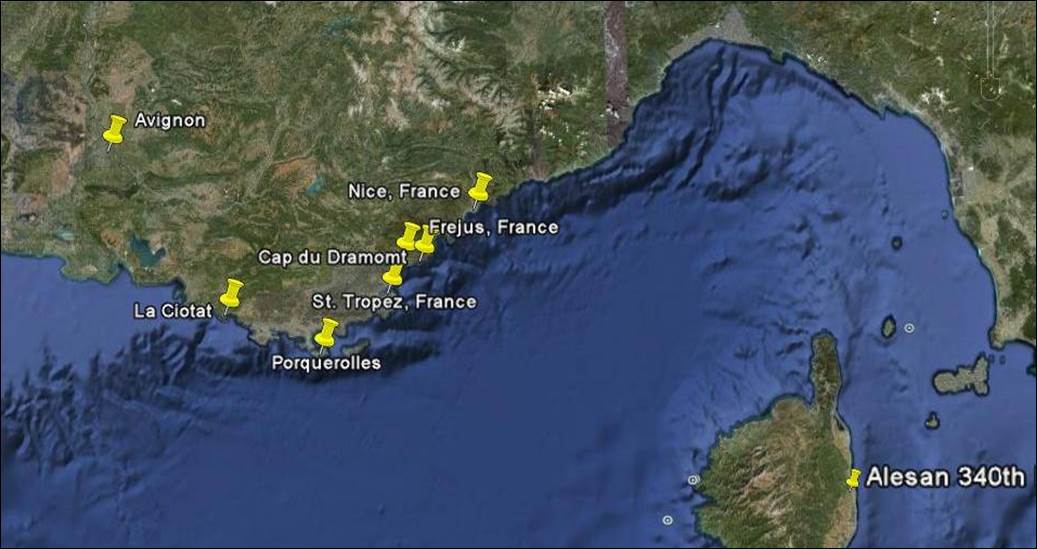 <![endif]>
<![if !vml]>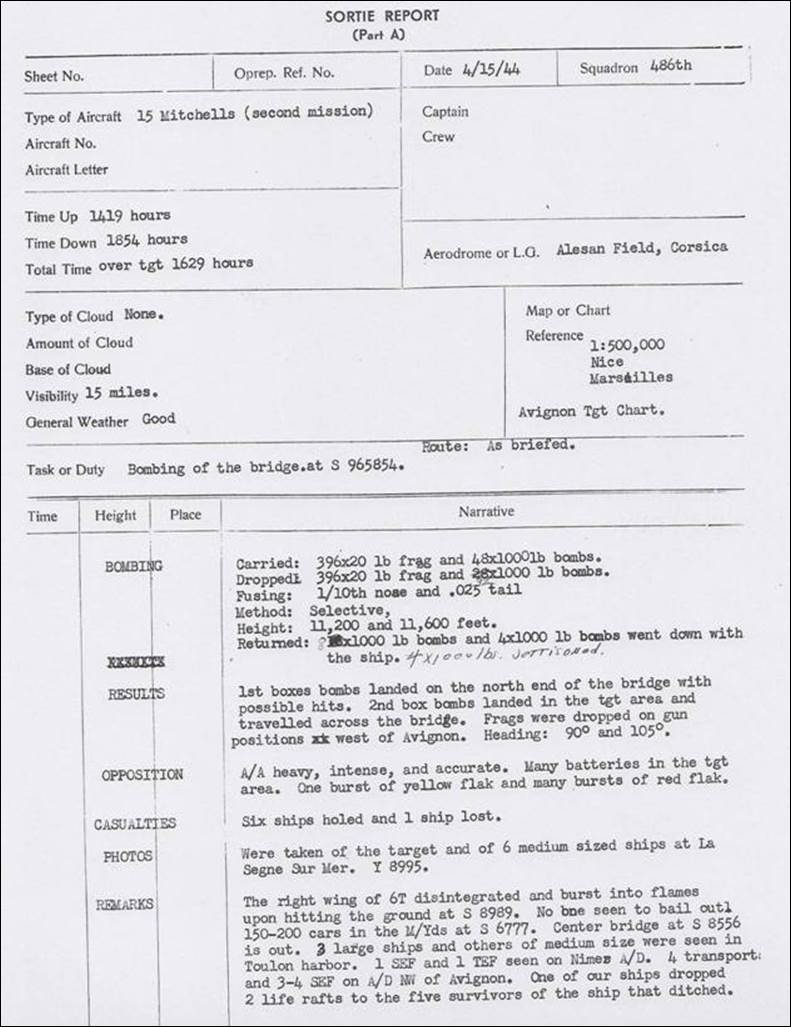 <![endif]>
<![if !vml]>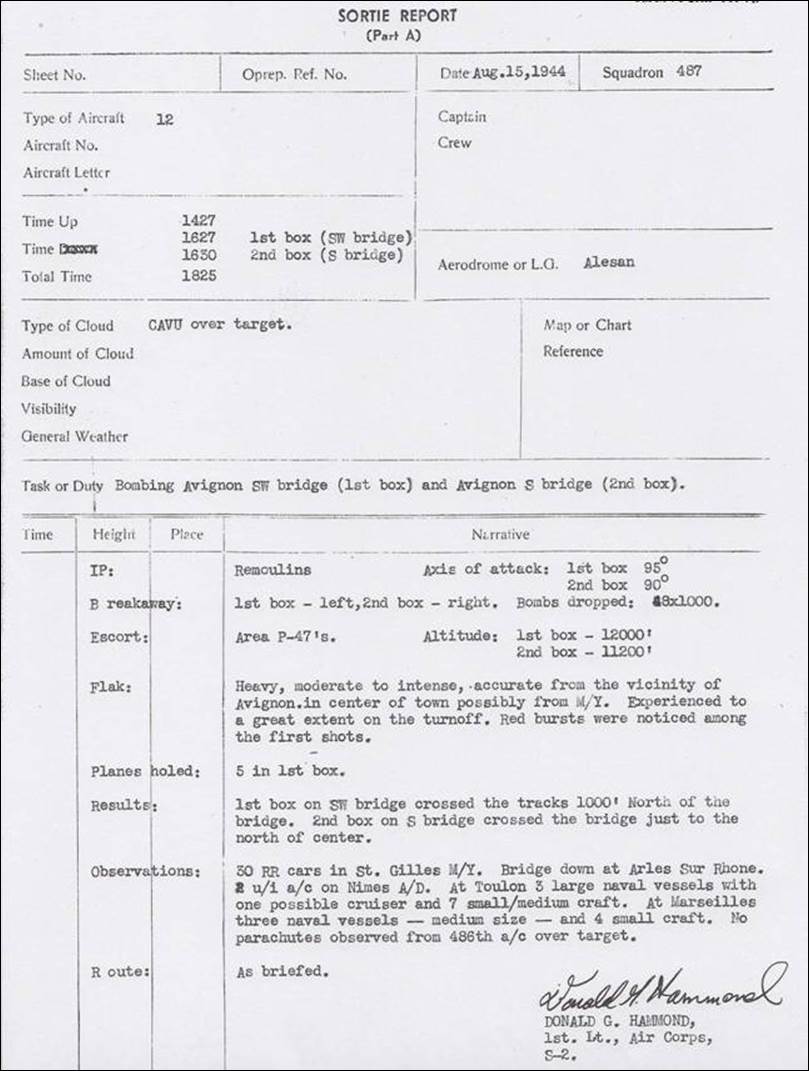 <![endif]>
<![if !vml]>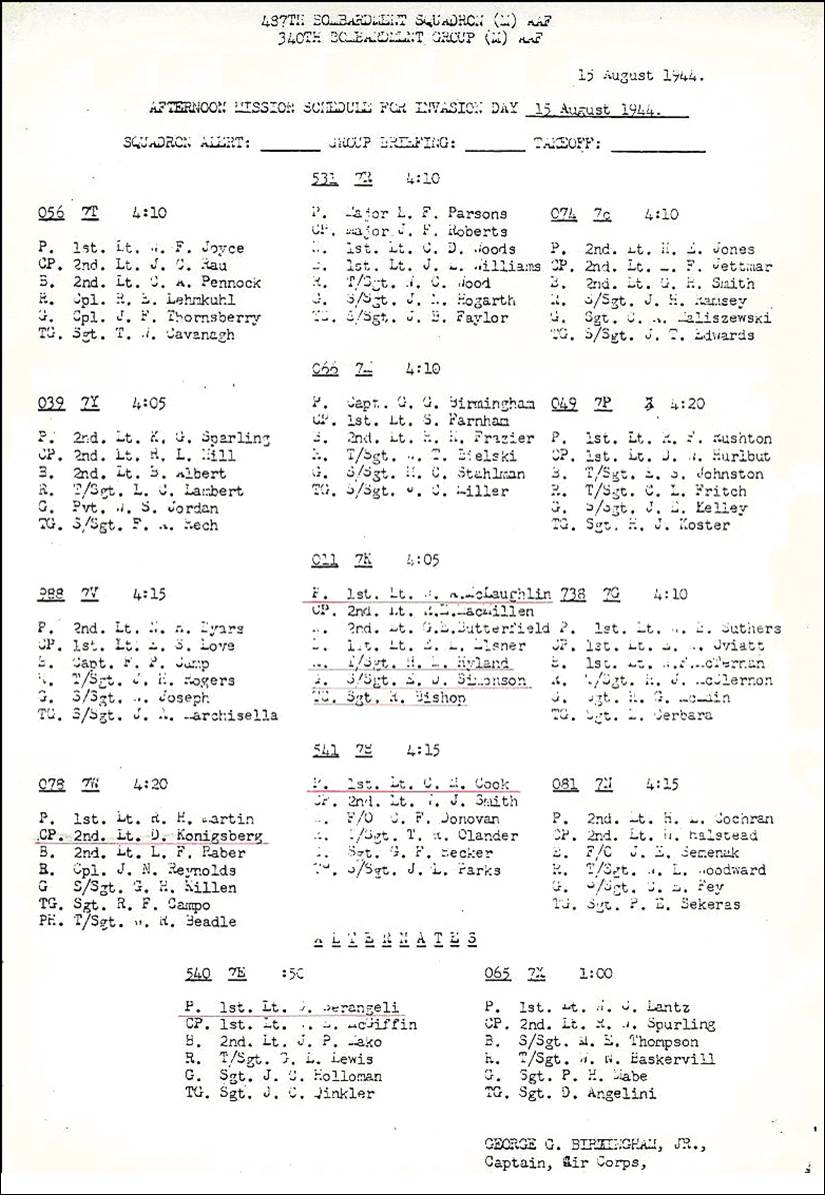 <![endif]>
487th BS Mission sheet credit:  487th BS Pilot 1st Lt. David Konigsberg
Capt. Charles M. Cook - Pilot  of 7B Ship holed and hydraulics out.
 He still put bombs on target and returned safely to base.  Received DFC for this mission.
<![if !vml]>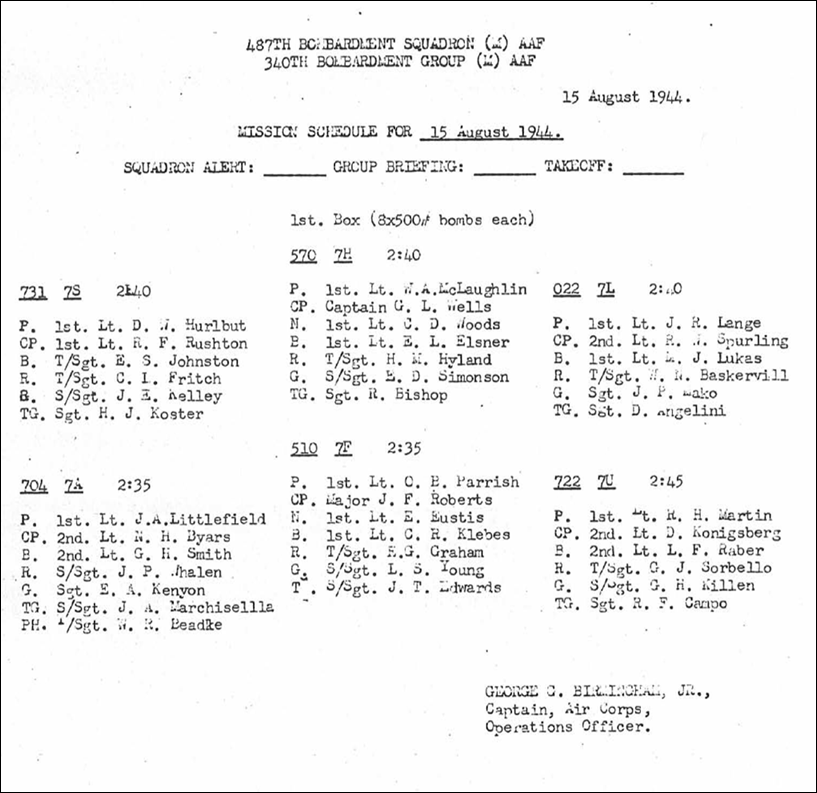 <![endif]>
<![if !vml]>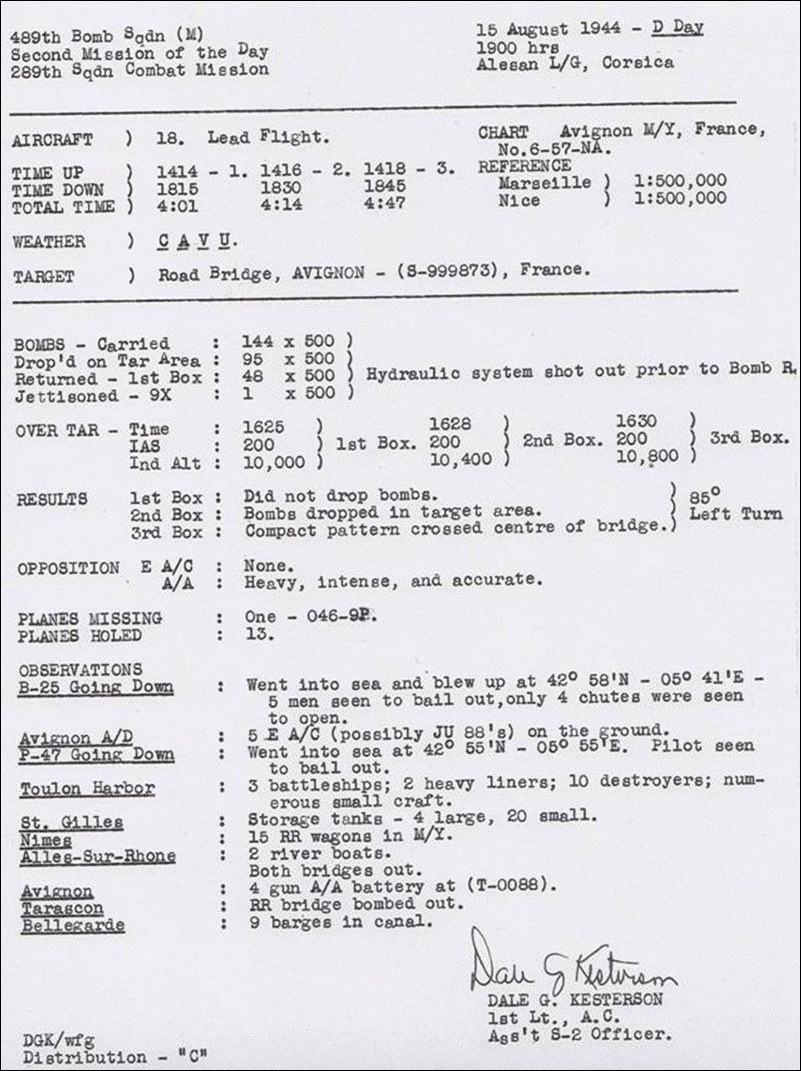 <![endif]>
<![if !vml]>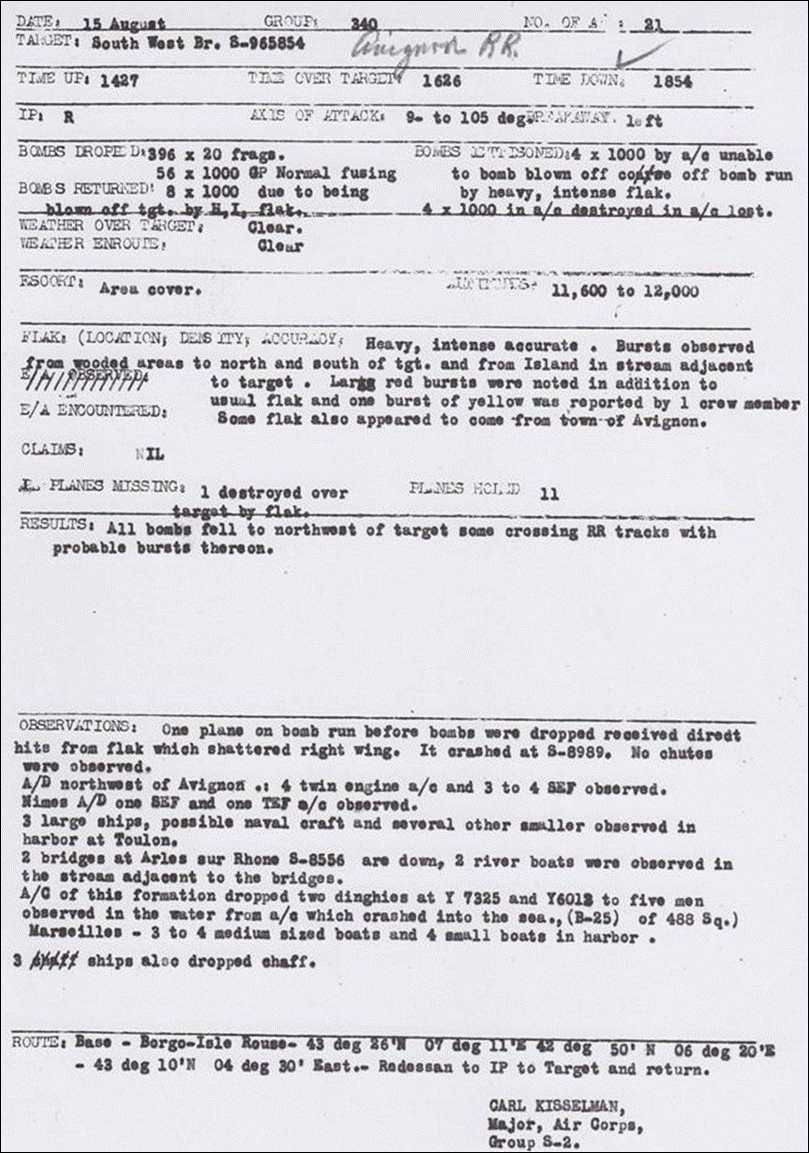 <![endif]>
<![if !vml]>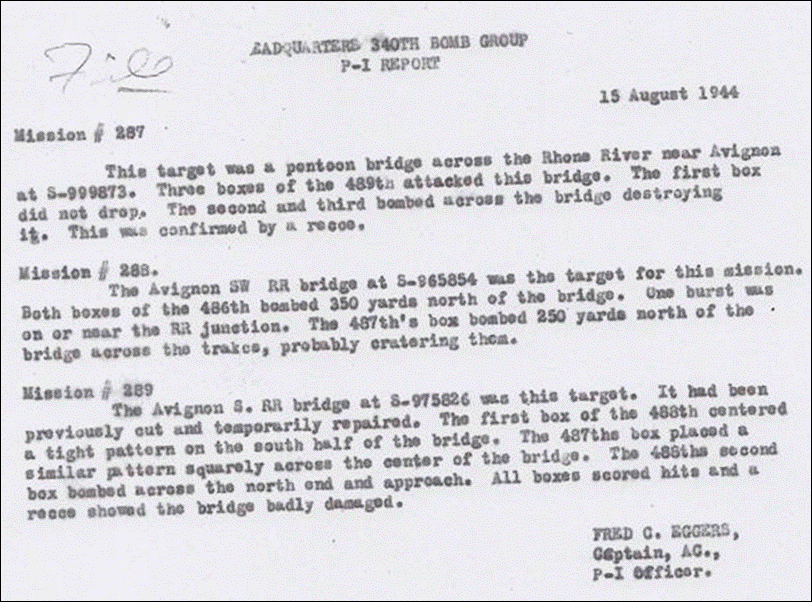 <![endif]>
<![if !vml]>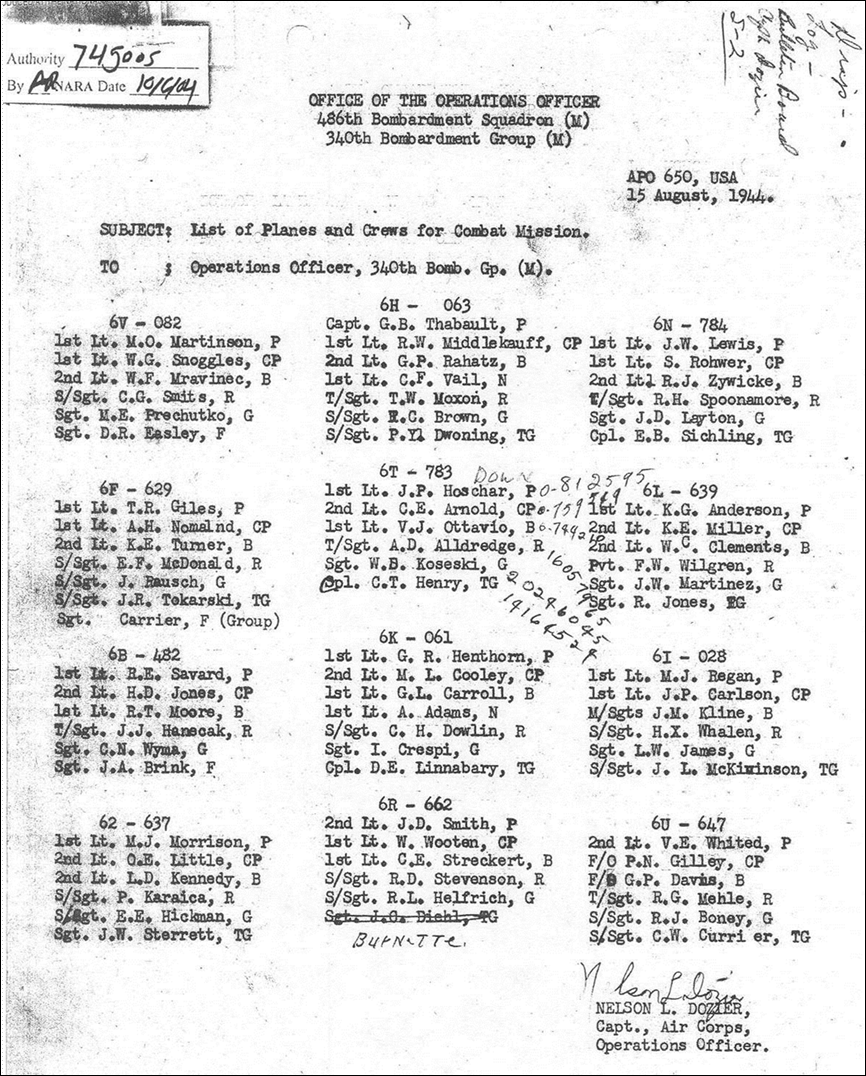 <![endif]>
<![if !vml]>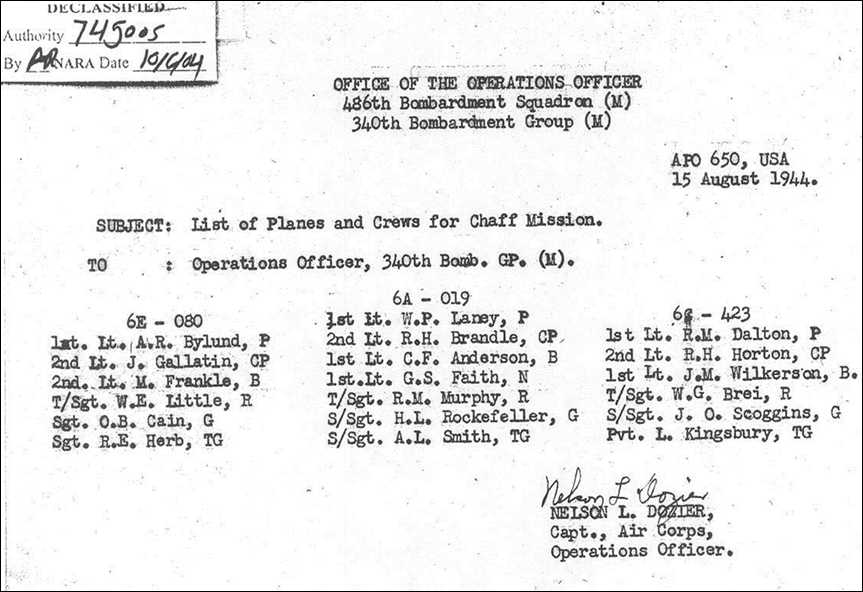 <![endif]>
486th BS Mission sheets credit:  Herman Voss
Aug 15, 1944  Below credit:  Dan Setzer and 57th Bomb Wing website
486th
In the afternoon bridges at Avignon were selected as targets. This indicated the B-25s could be taken off ground support work and put back on semi-strategic work. A French Major General and his aide-de-camp accompanied the invasion during the afternoon after being initiated about the Group by Col. Chapman.

The mission was rough - three ships did not return and most were holed. Two went down over the target and one over the sea. Our ship, piloted by Lt. Hoschar was struck in the right wing, flew apart and set the ship into a flat spin. No one was seen chuting out but chutes may have been overlooked because of the excited state of the crews due to the intense, and accurate flak. Some are inclined to believe several men may have gotten out safely and this writer is one who believes.

On the return trip, pilots J. D. Smith and Morrison spotted a 488th ship going down and when the crew landed in the water they each dropped spare dingies and radioed fixes for air-sea rescue.

The squadron was not happy and groups of men could be seen about the area in discussion, quiet and soberly talking about the mission. The Squadron's turn for stand-down will serve tomorrow and so to help forget about the mission. Quite a few boys drained their sorrow with some beer and whiskey - in fact singing could be heard during the small hours.

Losses in Action:

1st Lt. J.P. Hoschar
2nd Lt C.E. Arnold
1st Lt. V.J. Ottavio
T/Sgt A.D. Alldredge
Sgt. W.D. Koseski
Cpl. C.T. Henry
487th
A big day for the 487th Squadron and the 340th Group in particular. The Group celebrated its 500th combat mission with our own squadron leading the Group formation of seventy-two planes in a flight to prepare the way for the great Allied landing in Southern France. It was a long day and a tense one as all combat crew members were out of their sacks at in preparation for the big event. The first six planes took off at loaded with 500 lb. bombs to destroy gun positions near St. Raphael. The formation reached their objective at , but due to a complete cloud coverage no bombs ere dropped.
The second formation in which twelve of our planes participated took off at hours to bomb the beach at Antheor. The flight reached the target area at and released their bomb load from 7300'. The first box pattern started short of beach in central portion of target and extended across railroad tracks well inland to the top of a large hill. Beach believed to be well covered. 2nd box pattern due to cloud coverage in target area was not observed, but some crew members believed pattern hit probably 1500' south of target area along beach while others thought pattern may have hit approximately 3000' north of target area along the beach. No ack-ack or other enemy opposition was encountered bringing all our ships and crews safely home.
Second mission of the day took off at hours in which twelve of our planes participated. The flight was over the designated area, a road bridge at Avignon, France at and dropped their 48,000 lb. bomb load from 12000'. First box on the S.W. bridge crossed the tracks 1000' north of the bridge. 2nd box on South bridge crossed the bridge just to the north of center. Ack-ack this time was heavy, intense and accurate, holing five or our ships. However, all planes and crews returned safely to the base.
488th
OBSERVATIONS: At Y-7875 8D was seen to crash at 1700 hrs. 3 chutes at Y7075. 5 chutes seen coming from plane, 1 failed to open properly. Left engine was on fire and right engine was out.  On bomber 8U on August 15, 1944 Lt. Joseph Heller poured sulfa into the open wound on S/Sgt. Carl Frankel's leg, bandaged it, and stayed with him until the plane landed at Alesan Air Base where Sgt. Frankel would have been transported to the field hospital at Cervione not far from Alesan. Frankel survived the injury.
489th
In the afternoon we sent out eighteen more planes to blast at a road bridge in the Avignon area.

The second mission cost us one plane and one crew. After dropping the bombs and starting for home, it fell out of the formation, but it remained under control. This was the last that was ever seen of it.

Losses in action over Southern France on August 15th:

Thomas, Baxter, 1st Lt.
Swanson, Fred C., 2nd Lt.
England, George H., 2nd Lt.
Buchanan, John J., T/Sgt.
Williamson, William F., S/Sgt.
Craver, Luther S.