340th Bomb Group    489th Bomb Squadron
489th Bombardment Squadron Ground Crews   Video  (Quentin Kaiser collection)
This video shows some of the activity of B-25 ground crews from the 489th Bombardment Squadron of the 340th Bombardment Group based at Alesani, Corsica in 1944. B-25J "Morning Mission" (tail number 9W, serial number 43-27659) is featured. T/Sgt Forrest L. Westbrook became the crew chief for "Morning Mission" in May of 1944 and brought the aircraft through 154 total combat missions until the end of WWII. "Morning Mission" was distinguished by flying its first 114 missions on its original engines without engine failure, apparently an exceptional statistic for a B-25J. T/Sgt Quentin C. Kaiser flew three of his 65 combat missions in this aircraft: #2 on May 26, 1944 to Piteccio, Italy; #49 on Dec. 26, 1944 to Rovereto, Italy; and #59 on Jan 18, 1945 to San Michele, Italy.
The 489th Bombardment Squadron on Corsica   Video  (Quentin Kaiser collection)
Video taken in 1944 on Corsica - 489th Bombardment Squadron - 340th Bombardment Group - Alesani, Corsica - Alistro - Damage after the German Air Raid of May 13, 1944 - Ceremony - Color nose art of 489th BS and other 340th Bomb Group B-25 aircraft at Alesani, Corsica. Corse, Rome, Naples, Capri. German land mines.
340TH BG 489TH BS - SN 43-27638 - 9D
BRIEFING TIME  (photo Charles Cook collection)
<![if !vml]>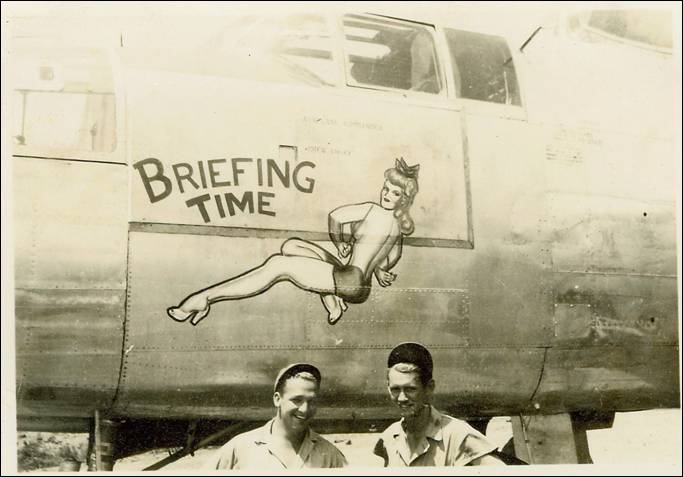 <![endif]>
I flew 16 missions on Briefing Time as Navigator. Almost all with Bus Taylor; all in lead.  489th Squadron – from Paul R. Gale
The plane is now at the Mid Atlantic Air Museum in Reading, PA and can be installed on MS Flight Simulator.