THE DISTINGUISHED FLYING CROSS
<![if !vml]>
<![endif]><![if !mso]>

<![endif]>

<![if !vml]>

<![endif]>

<![if !mso]>

<![endif]><![if !mso & !vml]> <![endif]><![if !vml]>

<![endif]> <![if !vml]>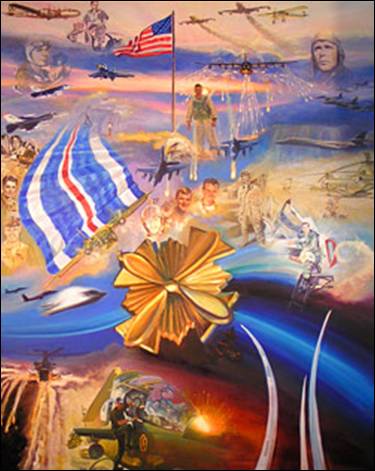 <![endif]>          <![if !vml]>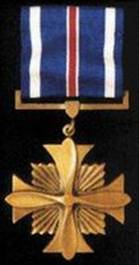 <![endif]>
 The Distinguished Flying Cross, created by Congress 80 years ago, is America's oldest military aviation award.

The Distinguished Flying Cross was designed by Elizabeth Will and Arthur E. Dubois both working at the Army's Institute of Heraldry. It is a bronze cross pattee, with rays between the arms of the cross. On the obverse is a propeller of four blades, with one blade in each arm of the cross and in the re-entrant angles of the cross are rays which form a square. The cross is suspended by a rectangular-shaped bar and centered on this is a plain shield. The reverse is blank and suitable for engraving the recipient's name and rank.

The ribbon has a narrow red center stripe, flanked on either side by a thin white stripe, a wide stripe of dark blue, a narrow white stripe and narrow dark blue at the edge of the ribbon.

The cross symbolizes sacrifice, and the propeller symbolizes flight. The combination of those symbols makes clear that the DFC is an award for heroism or achievement for individuals involved in aviation. The ribbon reflects the national colors.

Subsequent awards of the Distinguished Flying Cross are indicated by oak-leaf clusters for Army and Air Force personnel and by additional award stars for members of the Naval services.

In World War I, aircraft proved their value for reconnaissance and as weapons platforms. Pilots of those primitive flying machines showed both courage and endurance in carrying out air missions. To recognize their gallantry, the Distinguished Flying Cross was created.

The prime mover behind the DFC was Sen. Hiram Bingham of Connecticut. An air power advocate and veteran World War I pilot, Bingham used his position as a member of the Aircraft Board, to which President Calvin Coolidge had appointed him, to propose that Congress create an aviation award "for heroism or outstanding achievement."

Bingham's colleagues agreed and established the Distinguished Flying Cross on July 2, 1926. By law, the new decoration could be awarded to anyone in the Air Corps of the Army, Navy or Marine Corps after April 6, 1917, who "distinguished himself by heroism or extraordinary achievement while participating in aerial flight."

There were three interesting aspects to the law. First, DFC awards could be retroactive to the start of World War I, permitting the Army and Navy to recognize aviators who had been among the earliest pioneers. Second, the decoration was not restricted to combat heroism. Instead, the focus was aerial achievement, in war or peace. The DFC could be awarded to fliers who were setting distance and endurance records. Third, a military decoration had been created for the first time to have an identical medal, ribbon and award criteria for all service branches.

The first recipient was Charles A. Lindbergh, then a captain in the Army Reserve. The award recognized his 1927 transatlantic crossing in the Spirit of St. Louis.

But the earliest aviation event for which the new award was presented was Orville and Wilbur Wright's first powered flight at Kitty Hawk, N.C., on Dec. 17, 1903. Because the law permitted only awards for aerial events after 1917, Congress passed special legislation by the President and Act of Congress, to Orville Wright and Wilbur Wright (posthumous), Washington D.C., Feb. 23, 1929 and authorized the Wrights' DFC.

Although the law states a recipient must be "serving" with the military, a number of awards were made to early civilian aviation pioneers, one being Amelia Earhart. Awards to civilians came to an end when President Calvin Coolidge signed an executive order prohibiting them in 1927.

No one knows how many DFC's were awarded but The Distinguished Flying Cross Society has over 4,500 recipient members with possibly thousands more eligible to join our prestigious and elite Society.

During wartime, members of the Armed Forces of friendly foreign nations serving with the United States are eligible for the D.F.C. It is also given to those who display heroism while working as instructors or students at flying schools.
Examples of the gallantry for which the Distinguished Flying Cross is awarded:

WWII
Fanning, Clifford Earl, Lieutenant Commander, United States Navy is awarded the Distinguished Flying Cross for heroism and extraordinary achievement while participating in an aerial flight against enemy forces on 20 June 1944. Leading an extremely hazardous, long-range mission against enemy surface forces between the Marianas and Philippine Islands when intercepted by a vastly superior number of enemy fighter airplanes which also had the altitude advantage, he nevertheless attacked without hesitation. Again and again he engaged enemy fighters in the midst of a fierce and protracted aerial action, definitely shooting down at least one enemy airplane before his own plane was seriously damaged by the opposing fire. Subsequently, although his damaged plane was almost of control and he himself painfully wounded, he accomplished the return flight to a carrier base alone, without radio facilities and at night against great odds, affecting a carrier landing without further injury to himself or other personnel. His determination, courage and skill were at all times inspiring and in keeping with the highest traditions of the United States Naval Service.
AIR MEDAL
<![if !vml]>
<![endif]><![if !mso]>

<![endif]>

<![if !vml]>

<![endif]><![if !vml]>

<![endif]><![if !vml]>

<![endif]><![if !vml]>

<![endif]><![if !vml]>

<![endif]><![if !vml]>

<![endif]>

OAK LEAF CLUSTERS

<![if !mso]>

<![endif]><![if !mso & !vml]> <![endif]><![if !vml]>

<![endif]><![if !vml]>

<![endif]><![if !mso]>

<![endif]>

<![if !vml]>

<![endif]>

<![if !mso]>

<![endif]><![if !mso & !vml]> <![endif]><![if !vml]>

<![endif]><![if !vml]>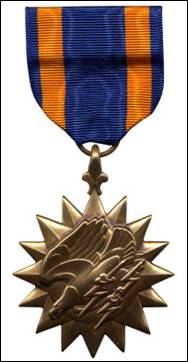 <![endif]>
Background: a. In a letter from the Secretary of War to the Director, Bureau of Budget, dated 9 March 1942, the Secretary submitted a proposed executive order establishing the Air Medal for award to any person who, while serving in any capacity of the Army of the United States, distinguishes himself by meritorious achievement while participating in an aerial flight The Secretary of War, in his request, stated "The Distinguished Flying Cross is available only for heroism or extraordinary achievement while participating in aerial flight…It is desired not to cheapen the Distinguished Flying Cross by awarding it for achievement not bordering on the heroic. It is, however, important to reward personnel for meritorious service."
b. The Air Medal was authorized by President Roosevelt by Executive Order 9158, dated 11 May 1942, and established the award for "any person who, while serving in any capacity in the Army, Navy, Marine Corps or Coast Guard of the United States subsequent to September 8, 1939, distinguishes, or has distinguished, himself by meritorious achievement while participating in an aerial flight." Authorization was announced in War Department Bulletin No. 25, dated 25 May 1942. Executive Order 9242-A, dated 11 September 1942 amended the previous Executive Order to read "in any capacity in or with the Army".
c. In July 1942, the Office of The Quartermaster General (OQMG), forwarded a letter to twenty-two artists offering an opportunity to submit designs for consideration. The design selected was submitted by Walker Hancock and approved by the Secretary of War on 31 December 1942. The designer, Walker Hancock, had been inducted into the Army and assigned to Camp Livingston, Louisiana. He was ordered to temporary duty effective 16 November 1942 to G1 War Department to work on the medal. The Chief of Staff approved the ribbon design prepared by OQMG on 26 August 1942.
d. Oak leaf clusters were initially used to denote subsequent awards of the Air Medal. The number of additional awards were so great that the oak leaf clusters did not fit on the ribbon.