Orrin Venton Cook
Biography
By his son Ed Cook
<![if !vml]>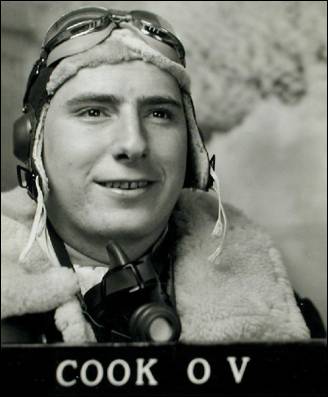 <![endif]>
Orrin V. Cook Advance Pilot Graduation
Ellington Field, Texas 
March 20, 1943
Orrin V. Cook was born on July 23, 1922 I Alexis, IL, to the parents Edward Cook and Fannie McBride Cook.  At his birth, Fannie was 48 and Edward was 61 years old, and Orrin would be their last of 15 total children. The Cook children spanned 32 years, and Fannie and Edward were rare in that they reared one son that served in WWI and two sons that served in WWII.  Due to the advanced age of both of his parents, and the Great Depression about to occur, Orrin and his closest brother Charlie were raised primarily by other older siblings and friends.
<![if !vml]>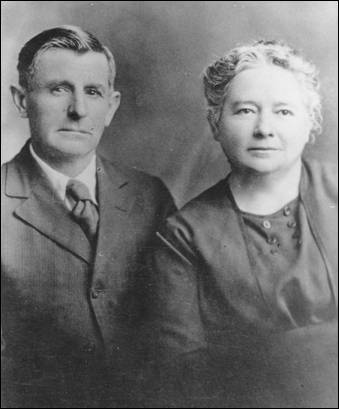 <![endif]>
Edward and Fannie Cook
Orrin's high school years found him living with friends, milking cows, and playing six man football for the Sherrard High School Tigers. Chosen as center for the team, in those years Orrin also went out for forward passes and became a noted receiver. Immediately after high school Orrin accepted a job as a physical science aid at the Rock Island Arsenal.  Life was good then, with a good job and finally a place of his own.  That of course was all to change with the advances of Hitler in Europe, and the Japanese in the Pacific.  As most men his age, Orrin was eager to serve, especially in the air.
The bombing of Pearl Harbor found Orrin in the Army Air School at Jefferson Barracks, MO.  After air school, Orrin did his primary at Bonham Field, TX, and his advanced training at Ellington Field, TX.  Chosen and selected for medium bombers, Orrin was sent to Columbia, SC for transition to the B-25.  His older brother Charlie, then in the tank destroyer part of the army was soon to follow Orrin into flight school and eventually into B-25s as well.
From Columbia, SC Orrin was sent to the Pacific via trains to San Francisco, a Liberty Ship to Honolulu, and flying a B-25 island to eventually end up in Brisbane, Australia.  In Brisbane the "25" and his crew waited for orders alone for about two weeks, when into the field lands a Colonel.  The Colonel inquired as what the B-25 and the crew was doing in Brisbane.  "Waiting for orders, sir" was the response.  "Well you gentlemen just got your orders, get that B-25 and yourselves to Port Moresby tonight!"
Arriving Port Moresby Orrin was assigned to the 500th bomb squadron as co-pilot of the B-25 "SNAFU II". On Dec. 22, 1942 and in his third mission over Wewak, New Guinea, SNAFU II received a 20mm shell through the control panel removing bits of several fingers and making a ghastly wound to Orrin's face. The concussion knocked the pilot unconscious for a short while as Orrin flew on the mission in spite of his wounds.  The pilot eventually regained consciousness to toggle the bombs away over the target and resume command of the aircraft.  Away from the target area, the pilot directed Orrin out of the co-pilot's seat and the crew chief into the co-pilot's seat.  Orrin's wounds were attended by other crewman as best as possible, but he was still losing a lot of blood.  On the way back to Port Moresby, the pilot wisely diverted to Nadzab so that Orrin could be looked after by the field hospital there.  Due to the blood loss, Lt. Cook went unconscious for three days.
Awaking in the field hospital on December 25, 1944 the orderly asked Lt. Cook if he felt OK, and weather he was up to some Christmas "Cheer".  Orrin replied "Sure, what do you have?  "Medical alcohol and grapefruit juice" was the reply, and my father and the orderly toasted the birthday of Christ as best they could.  From Nadzab Orrin was air evacuated to Brisbane, then to Honolulu, on to San Francisco, and eventually to Springfield, MO.  Springfield was the home of the giant hospital where wounded soldiers from both theaters were sent for surgery and rehabilitation.  At each stop, the only questions was "Do you think you can handle the next flight leg?"  Orrin was airlifted out of the jungle in Nadzab, New Guinea to Springfield, MO in a matter of days.  At Springfield, MO Orrin started what was to turn out to be three years of surgery and rehabilitation.  Rebuilding facial structures and plastic surgery in general were quite new at the time.
For his efforts in completing the mission on Dec. 22, 1942 Lt. Orrin V. Cook was awarded and Silver Star for bravery, and of course, the Purple Heart for the attendant wounds.  As with most men his age he was mustered out of the Army Air Corp around VJ day, but not before meeting Meriam Wood, a volunteer in one of the many hospitals during his recovery.   Meriam and Orrin were wed in Ohio in June on 1946, his bother and fellow B-25 pilot Captain Charlie Cook as his best man.
Orrin attended the University of Illinois, majoring in Industrial Engineering. His studies were curtailed by the start of the family and the need for a job.  The family soon found themselves in Cleveland, Ohio with Orrin working in the industrial engineering department for Gibson Greeting Cards.  There in Cleveland both sons Jeffery A. and Edward J. Cook were born.  During the next 20 years the family moved to Racine, WI where Orrin was employed as an industrial engineer in the foundry industry.  After both sons were in college, Orrin retired from the foundry industry and traveled the United States for a year settling in Apache Junction, Arizona.  Bored and in need of supplemental retirement income, Orrin secured a job in the Civil Engineering squadron on Williams Air Force base, where he retired again after five years.  He enjoyed being around undergraduate pilot candidates again after the 35 year absence, and in many ways these five years were the best of his civilian career.
Orrin and Meriam spent the next few years in a pleasant retirement until Meriam's passing in November of 1984.  After the passing of his wife of  38 years, Orrin traveled a bit visiting the dock in San Francisco where he embarked a Liberty Ship for Hawaii and the war, and the hospital in Missouri where he spent time in rehabilitation. Orrin eventually built a remote homestead in Florence, AZ where he lived a quite remainder of his life, and eventually passed away in January of 1996.  Orrin is survived by his two sons, and three grandchildren, Evan, Brian and Alice Cook.