War Diary of Will S. Arnett
B-17 Bomber Pilot (301st BG) in North Africa during the Second World War
----Diary includes B-17 missions along with the 97th BG (and 414th Squadron)
<![if !vml]>
<![endif]> 
Photo credit Col. Wm. L Ross III
<![if !vml]>
<![endif]>
Will S. Arnett - North Africa B-17 WWII Diary .
http://www.bbc.co.uk/ww2peopleswar/categories/c55405/    Will S. Arnett Diary
The following story appears courtesy of and with thanks to Will Seaton Arnett, 1st Lt. USAAF and John S. Green.
September 5, 1942 Chelveston, England
The following story appears courtesy of and with thanks to Will Seaton Arnett, 1st Lt. USAAF and John S. Green.
This is the day we've been looking forward to -- our first raid. We went on the alert yesterday and were called out this morning at to be briefed for our first raid.
The target was a marshling yard at Rouen, France.
We took off at climbed to 25,000 feet and joined another group, the 97th. There were 36 B17's in the formation escorted by 60 Spitfires.
We were over the target at exactly , dropped our bombs and came home with out a single bomber lost. Its a beautiful sight to watch four 1,000 lb. bombs fall out of 34 planes. Two planes had to turn back because of engine trouble -- one was our squadron commander, Major Quick.
Every bombardier claims a direct hit so the must have been complete.
We landed back here at and were served Rum and Coffee, had interrogation, then news that we were through for the day.
I had the same queer feeling I used to have before going into a ball game, but just as soon as we started our motors it left and everything was O.K.
Not a single enemy fighter came at us and not a burst of flack was fired from the ground.
It is believed that our fighters did a little mixing with F.W. 190's over the target area.
That's all for No. 1.
Wednesday, November 18, 1942 Chelveston
We were honored last night with the presence of four Hollywood stars: Fay Francis, Carole Landis, Martha Ray, and a new actress, Mitzy Mayfair, a pretty little dancing trick. They entertained us for an hour and a half in our new theater and was very good. Martha and Mitzy were the high lights with Kay as mistress of Ceremonies with Carole singing and leading the audience in song.
After the show, they came to the club and a good time was had by all. For a long time the signing of short snorter bills was the mains source of entertainment. Of course the bar was doing good business all this time too. I always thought of stars being snooty and hard to understand and talk to but I was entirely wrong because they are everything but that. They are just like all the rest of the fairer sex, like lots of attention and petting. Take it from me they are build just like any other girl -- I know. Kay and Martha didn't like it so much but Carole and Mitzy didn't seem to mind as long as you were half careful, in fact, they seemed to enjoy it a little. Wonder how far one could have gotten out under the beautiful moon looking down at the stars.
November 22, 1942 Some other place in England -- way down South -- but not of Carolina.
Left Chelveston this morning at 10:30 and arrived here at 12:30, had dinner, cleaned up, and stayed in the briefing room the biggest part of the afternoon getting the low down on our trip tommorrow. This is strictly an English station with plenty of W.A.A.F.'s roaming around but darn it we are confined to the barracks and can't do anything about it. To make it worse, this is probably the last time we will get a chance to look at a white woman.
See you in Africa.
November 23, 1942 Baurenmouth, England
Another day at Hurn Field. We were up at to get ready to take off for Oran Africa by . Took off before sun up and had to turn around and come back after about 15 minutes because the oil dilution valve stuck open on #3 engine, so we fooled around in general all day and Thomas and I got a hair cut. We both got it all cut off with the exception of about an incl. I'm glad we did too, because it will probably be a long time before we get another one. Time to hit the hay because the Colonel said we will have to be by our lonesome tomorrow, so that calls for another early rise.
November 25, 1942 Tafaroui, [Algeria] Africa -- just South of Oran about 12 miles
Arrived here last night at 4:45˝ -- left Hurn Field at Had a wonderful trip down, we came the water route just off the caost of France Spain and Portugal, throught the Strait of Gilbralter and along the northern coast of Africa. When we landed it was almost dark and by the time we were settled it was. Not know where we were or where to go, we started walking through mud knee deep (it had just rained a flood in the afternoon) in search of something to eat and a place to sleep. After walking for miles with no success whatsoever, we finally went back to the plane to sleep, all eleven of us. Boy, what a night after being in the air all day. Dam little sleeping I did using luggage for a bed.
November 26, 1942 Tafaroui, Africa
I thought I was tired last night but I was wrong because I'm absolutely dead tonight. We got up this morning ready to pump 1800 gallons of gasoline in our plane by hand from 50 gallon drums, and brother that was a job I'll never forget. This afternoon we found a place to sleep with eight other boys that came the day before in a 20' by 20' room; with the floor as a bed and only five blankets to sleep on and under.
Saw my first Arab today, nobody knows were they live or came from but they are on the field early in the morning with tangerines and eggs to sell and trade. They would rather have cloth, preferably white, money doesn't mean anything to them. They have a mule, a specie of a donkey, but about half as big.
They are filthy and disgusting. One enlisted man traded a mattress cover for 15 eggs this morning and a basket of tangerines.
November 27, 1942 Tafaroui Africa
Fooled around out at the plane all morning getting it cleaned up and ready to go. This afternoon we loaded it with bombs and brother that is a job. It is a good mile and a half out to the plane from here and every inch of it is mud all the way. I made the trip twice so I'm dragging my tracks out again tonight. I was wondering how I was going to sleep tonight on the damn floor, but that problem is solved now.
I've kept looking for a change in food for the last two days, but it is still hash or stew three times a day and it is really hard to swallow for breakfast.
We are on American money basis again now but it wouldn't be worht a continental in the states because it has a yellow seal in place of the blue one.
It makes you feel like you have money anyway. The silver is the same. The P.X. opened up today and we got our candy and cigarette rations. Didn't care so much for the cigarettes but the candy was delicious.
Continued...
November 28, 1942 Tafaroui, Africa
Just got back from an eight hour bombing mission on Bizerte, Africa.
Up at -- breakfast to -- briefing at -- take off , over the target 11:30, and landed at the base at
No. 1 classmate "Toby" was shot down and the plane exploded when it hit the water. Capt. Bruce of the 32nd also went down. These were the first two crews and planes we've lost. It's kinda hard to take when they go down like that. Some of the crew members might have bailed but it is doubtful, nothing like living in hopes though.
This was the roughest one yet, more flak and a hell of a lot of enemy fighters -- FW 190 -- ME 109 -- and ME 210. We got a number of them but there is no way to tell how many. I saw one go down in flames and explode in mid air about 5000' above the water. I'll never forget it.
November 29, 1942 Tafaroui, Africa
Another hard day, loaded 500 lb. bombs this morning and brother that is a job winding them up by hand.
It's been like Xmas here tonight. Fred just got in from England and he brought a plane load of mail that had collected since we left. Everyone got mail and is in much better spirits. I got eleven letters and one package so I am really beaming.
We had some decent food today for the first time -- no hash thank God. The coffee is still just as horrible made from salt water.
Fred moved in with us -- so there is eleven of us in here now -- had to make room for my buddie.
Lt. Colonel Gormley just came in and announced a mission for tomorrow.
Continued…
December 29, 1942 Biskra, Africa
Took off at to bomb the docks at Souse. After climbing through a thousand foot overcast, the whole of North Africa was covered over. One plane iced up going through the clouds and the pilot gave orders to bail out and the navigator was the first one out. About that time he dropped his load of bombs and regained control of his plane so no one else hit the silk. Thayer was all by his lonesome in the mountains and hasn't been found yet. The target was completely covered sow e came back with our bombs. I flew with Capt O'Carrol.
December 30, 1942
Routine. The Navigator hasn't been found yet.
Continued…
December 31, 1942 Biskra  [Algeria] , Africa
Briefed at , took off at and over the target (Sfax) at . It was a perfect day for bombing but the mission was a failure before we left and none of the bombs went where they were supposed to. No enemy fighters were encountered and no flak was seen. The next time we go over there, they will probably throw up the kitchen sink.
January 1, 1943
The new year really floated in last night. Where the liquor came from is a military secret to everyone but the C.O. but it was passed out and that's all that matters.
The usual things happened today, 97th went out, we stayed on the ground and tomorrow we go out and they stay here.
Had a decent meal out at the field at lunch and to top it all off turkey at the hotel tonight.
Stayed out in the sun all afternoon and played knock poker.
Continued…
January 2, 1943 Briefed at for a raid on Tunis. Took off at and were over the target at . We were really tested today and I ain't fooling. They must have sent up everything they had with their anti-aircraft but the kitchen sink and I think part of that was in it. I have never seen so many ME 109's in my life and they weren't fooling around about coming in. We had to throttle back to let our #2 man catch up and take the lead because he had been hit in his #3 engine and it was out. That was when we caught hell after the rest of the Group ran off and left us. Everyone got back OK but had three injuries. The 97th didn't catch anything yesterday.
January 3, 1943
Nothing happened today but routine until this evening just at dusk when ten JU 88's came over and dropped a few bombs but no damage was done. The anti-aircraft kept most of them away and they didn't get to drop many bombs. They seem to come over just a dinner time everyday, but not as many as today.
January 4, 1943
Took off to go on the "milk run" to test "Flak Alley," Bizerte in other words, at and had to turn back 30 minutes short of the target because that damn #3 engine went out again. Its just as well though because it was covered over anyway. The only thing is that the rest got credit for a mission and we didn't and this would have been my 16th one in North Africa. Now we will be out for a week and maybe longer because #3 engines are hard to get.
January 6, 1943
Routine. No engine for #3 yet and discovered today that #2 gas tank had a bullet hole in it and has begun to leak, so it has to be changed. Therefore, we will be out of commission indefinitely.
January 8, 1943
Went out to the field this morning and with nothing in sight for the day but before we knew it we were being briefed for another raid on Bizerte. I had no hopes of going since our plane was still out of commission, but one of the other co-pilots slept in so I went with Slack on Swenson's plane.
There wasn't much to the raid because it was partly clouded over and we fooled them by making a different approach to the target. They put up their usual barrage of "flak" but it was no where near us. No fighter opposition was encountered so all I got out of it was another stopped up head.
January 9, 1943
Served as duty officer for the group last night and had to sleep in headquarters. Nothing happened so there wasn't anything to it.
The day was more or less routine.
January 10, 1943
A mission was planned this morning and I was supposed to go along with the new crew (Calvert) that just arrived, but a big sand storm came up and brother it was plenty RUGGED. I'm still digging sand out of my ears and spitting mud.
A JU-88 came over tonight and dropped some bombs on the field. I watched it from the hotel roof but didn't know how much damage was done. One pretty big fire was started. Sure hope he didn't hit ole "67".
January 11, 1943
I under estimated the raid last night tremendously because when I went out there this morning I learned that there was at least five planes making dive bombing attacks. Three planes were completely demolished, one B-17 burned, one C-47 got a direct hit and one P-38 got hit by bomb fragments and set on fire. My plane is in the so called "bone yard" for repairs and the two of the above were within 20 yards of it. One bomb hit in front and two at the rear making a triangle and it got hit from all angles. It is repairable but will take about two weeks to do it.
One man was killed and several injured. One kid that I run around with a lot, Calcote, got a bomb crater about ten yards from his tent. He came in and slept with me the rest of the night.
January 14, 1943
Our plane was made Tech supply this morning much to my joy, because I didn't ever want to fly it again after the plastering it got the other night by the bombing.
It happened again last night about . It sounded like they were blowing the whole field off the map but discovered this morning that they missed it entirely. They bombed a decoy light about two miles away which was lit after they dropped their first load. They aren't so smart after all.
There is one hell of a sand storm in progress today. You can hardly breathe out at the field.
January 15, 1943    DJC Editor's Note: 2nd Lt. Wm. L. Ross arrives in theater with the 97th BG 414 BS on this date.
Packed again or rather closed up my bags again for another move some place closer to the front lines tomorrow. I don't care where it is just as long as we get out of this d-- dust and sand.
January 16, 1943
Up at had breakfast and were at the field for a take off to out new field. Was supposed to have ridden in a transport since we no longer have a plane, but I managed to stow away on one of our own. We finally took off at and had no more than started when we landed at our new home at . Don't know just yet where it is only about 20 miles from Constantine in a valley 2500 feet in elevation.
Spend the afternoon putting up our pup tents and getting fixed for the night. Kuncel and I put our tents together and made one long one.
January 17, 1943
I never spent a more miserable night in my life. I was so cold and shook so hard my crash bracelet was off this morning. Boy, it was really cold. I washed my face with ice chunks in the water. The ground was snow white with frost this morning. After the sun came up it actually got hot and everyone began shedding what they had put on not an hour ago.
Had to move the location of our tent this afternoon and have it fixed up pretty comfortable now. Spent the rest of the afternoon digging a fox hole and boy is that ground hard. The sun has been down about an hour and it is already cold.
Incidentally there is no dust, just solid grass, even on the airdrome.
January 18, 1943
Started on another mission but didn't get any farther than Biskra where we were supposed to have joined the 97th, but when we got there they had already left with all the P-38's, so we came back since there were no more fighters for escorts.
Continued…
January 19, 1943
Briefed at for a raid on the marshalling yards at Tunis. Off at and circled the field for 55 minutes waiting for the 97th to join us. I finally got to go with the new crew and I'm more convinced than ever before that I would like to have my own plane and crew. Returned at , had chow, then put on extra clothes to keep warm. Right now my eyes feel like they are ready to pop out because of a terrible headache.
Continued…
February 5, 1943
Up at after a wonderful nights sleep, breakfast, briefed at , take off at , left the field at for a coordinated raid with he 97th on the airports at Gabes. The weather was perfect. We were loaded with fragmentation bombs. There is six bombs to each cluster and each bomb weighs 20 lb. Loaded with 24 clusters making a total of 144 bombs in each ship, there was 46 planes in the formation, and each bomb breaks up into 1,000 fragments.
The raid was a success but we caught plenty of hell from fighters and flak, one ship was lost, one gunner killed and another injured on another ship.
Colonel Walker led the formation. I led the 2nd element with Capt. Thraler our new squadron commander.
February 6, 1943
I was on the raid yesterday when Kuncel, my tentmate, came back from Algiers where he had been having their ship repaired and he didn't know whether to move in with me or not and didn't until I got back.
He was really surprised at what I had done and after looking around he decided that I had built the best one in the Area.
It is cold and damp outside but very warm and comfortable in here.
February 7, 1943
Went out on a test hop as first pilot.
February 8, 1943
Another test hop.
Continued…
February 9, 1943
Another long tiresome raid. Briefed at off at . Picked up the 97th at Biskra [Algeria]  and proceeded to the target -- an airport at Sousse. Another co-pilot and I had a ship today, flew on the Colonels right wing. We were loaded with fragmentation bombs again and the bombardiers say they really plastered it.
We didn't get but very little fighter opposition. Two of three started in but they changed their minds and dived away and I can say that I don't blame them. There was some flak but inaccurate.  Gen Doolittle was along today.
February 10, 1943
Haven't been out of my tent today except long enough to eat and go take a bath. It has been raining and cold all day.
About , it started snowing and the ground was covered in no time. Naturally all the officers got out of their holes and had a snowball fight. Pretty rough too for a while. It's still snowing, guess we will have to shovel our way out in the morning.
February 11, 1943
It didn't let up all day, snow a while, rain a while, sleet a while, then all three at once. I borrowed the Captain's Jeep to go wood hunting and like to have frozen and is still going strong.
Couldn't even stay outside long enough to eat, so we had to go get our meals and run back to our tents to eat.
February 12, 1943
Oh Brother, what a night. Kuncel and I awoke this morning to find our "nice little home" three inches in water. Luckily I had a cot but Frank didn't, his bedroll was water proof to a certain extent and that saved him.
Everything he and I have got soaking wet, clothes and all. We spent the morning hanging our things out to dry.
This afternoon, I was determined not to have just shelter halves for a cover so I out-right stole a wing cover and he and I both worked like slaves building a frame for it.
We didn't dig down either.
February 13, 1943
Worked all day covering up that d-- hole and fixing up our new home and it is much better than the old one and more room, too.
Frank had to go to the hospital today because of the previous night.
I built a stove this afternoon and if I can ever start the smoke going out instead of in, I'm gonna get a patent on it. The ideas is original and if it wasn't for the smoke problem it would be wonderful.
February 14, 1943
More or less took it easy today except for a little piddling around. Played a little baseball and went to the show tonight, "Argentine Nights." The third one we've had here.
The field is so muddy that they don't dare to move the planes, even had to take the bombs out to keep them from sinking. No telling when it will be dry enough to take off.
February 15, 1942
Pete came up and gave us 30 minutes to get everything ready to take off on verbal orders and to report to operations at Telegrma, a field about 12 miles from this field.
Thomas was up flying so McConnell took his place as pilot.
After reporting we were told to stand by and be ready to take off at 10 the next morning to ferry some big shots, we don't know who.
February 16, 1943
We were bright and early and about , we went out to the plane to find out that #3 wouldn't start -- so we said this is it. We got busy and changed the plugs hoping that our party would be late. Well, they were but the plug change didn't do any good.
About General Marshall and General Eisenhower drove up to base operations with their aides. Thank God we weren't there to break the news to them but the operations office instead.  They got in their cars and went back to Constantine.  We tried to start it all afternoon, but so soap, so another night away from home.
February 17, 1943
We called headquarters the afternoon before and asked for some mechanics to come over and fix the darn thing. They came over early this morning and finally got it started after putting on a new booster coil and draining water out of the carburetor.
Just before we took off, we saw a B-26 spin in about 5 miles from the field. The explosion rocked the countryside.
February 18, 1943
When I took off #2 supercharger went out completely and it caused me to take off at an angle.
After landing, I proceeded to take to our parking area dodging mud holes. Got within 10 yards and the left wheel almost went out of sight. So I got out and left it there.
February 20, 1943
Gave a farewell party for Colonel Walker last night, he is going to Bomber Command at Algiers much to our regret.
Continued…
February 23, 1943
Oh Boy, what a day. With only three hours of sleep last night, we were up at , briefed at , took off for Kairouan Airdrome, near Sfax, bombed it and were back on the ground by . I was first pilot with Thomas as a brand new Captain as co-pilot.
But that wasn't the end of the day. At , we were given a 30 minute notice to be briefed and off the ground by 3 and be over Kasserine Pass, our target, by 4, where an enemy concentration is located. We were there but it was solid overcast, but that didn't keep them from throwing up plenty of Flak. Every ship in our squadron was hit, our four times -- no one hurt. Bombing altitude 15,000 feet which is strictly for the birds as far as I'm concerned.
I'm so tired I'm cross-eyed. Never again do I want to fly two missions in one day.
February 27, 1943
Spent the most miserable night I've spent in a long time. Went to the "Doc" and he had me in the hospital before you could say Jack Robinson. So the record I've held for 27 years was finally broken. My temperature has been ranging from101 to 103.8 all day but it's down now.
The first time I've ever had influenza and my first time in a hospital bed.
February 28, 1943
Another sleepless night and very unpleasant too, freezing to death one minute and burning up the next. I've drunk enough water to float the biggest ship that the 301st sunk on their raid over Sardinia.
I'm the only office in the room with 16 enlisted men. About 5 have flu, three or four with gasoline burns and the others are gold bricks taking a rest or beating guard duty.
My temperature reached 104 at then started dropping.
March 1, 1943
And another sleepless night with everything running about the same.
March 2, 1943
Temperature almost went back to normal then back up again. They brought in an old private from my squadron that must have gotten mixed up with the wrong crowd cause he was sorta messed up.
March 3, 1943
I must have sweated my temperature away last night because I awoke from the knock-out pill the "Doc" gave me ringing wet with my temperature normal and it stayed there all day.
Still feel lousy as the devil though.
March 4, 1943
No temperature today, wrote a few letters.
March 5, 1943
The "Doc" let me get up and walk around a little today but I was too weak to do much walking.
March 6, 1943
Got out of the hospital this morning and had to stop and rest before I could make it back to camp I was so weak.
Have been up all day and am as tired as if I had worked all day.
March 7, 1943
Packed some things for our move today.
March 8, 1943
We were up bright and early this morning running around like a chicken with its head cut off trying to get everything ready to leave on the specified time.
Departed from Ain M'Lilla at and arrived at out new base at . It is only about 40 miles west of our old base.
There is nothing between us and the North Pole but a barbed-wire fence to keep the wind off and the gap is down on it. Oh Boy, it is cold.
We are living in Pyramidal tents and they are pretty nice. My tentmates are Kuncel, R.E. Hart, and Harold Wilson.
We put the tent that we had for a house at Ain M'Lilla down for a rug and it keeps the damp out.
March 9, 1943
We've been working all day fixing things up and making it more comfortable. The name of our apartment is Maision de la Caak, sore of Hart's bright ideas.
We have a victrola and about 100 records, also a kerosene stove and lantern.
There isn't any electric generator close enough yet to have electric lights -- but give us time.
This is a regular Officers Club since we have the only means of entertainment.
We have some beautiful scenery around us. Mountains to the South and East, farm land and waste land to the North and West.
Continued…
March 10, 1943
Briefed at this morning for a raid on Sardinia but it was postponed because of weather.
At we were briefed again to bomb an airport near Tunis. We coordinated with the 97th. They had 40 planes and we had 36 in the air. That's a lot of B-17's if you ask me and all loaded with frag bombs. They bombed one drome and we bombed another. There was some flak but it was far away. There were a number of fighters up but a very few of them came in.  I was co-pilot to Capt. Bruce Edmonds today.
March 11, 1943
Worked like hell all day building a door and table in our tent.
But, today was the one I've been waiting for. All the second Lts. made 1st Lt. except two or three. The co-pilots wore gold for exactly 9 months and 19 days and brother that is a long time considering everything.
Our promotions were effective March 2.
Continued…
March 12, 1943
Today was the day, first I took my first ship on a mission with Choster Ninney as my co-pilot. We call it soloing. Second, when we landed at the Major met us at the plane and told us to dress in full for decorations. So without eating since breakfast, we had to stand at attention for an hour while the awards were being presented.
I received the Air Medal and two oak leaf clusters.
March 13, 1943
Up at , French Toast for breakfast. Briefing at and off at to bomb some convoys on the Mediterranean. We had four targets and never found a darn one because the whole sea was completely covered over. So after of patrolling we came back with our bombs and landed.  I flew co-pilot to Ninney today.
My shoulders are killing me from flying so much formation.
March 14, 1943
It's been a long bad day and no mission was scheduled and all I've done all day is write letters, listen to music, and bull sessions.
March 15, 1943
Played volley ball against the enlisted men the biggest part of the day. The whole group had a holiday.
March 16, 1943
There is nothing more disgusting that a fifteen minute notice before briefing especially right at lunch time. We ate, were briefed and in the air in just an hour. Took off at to patrol the Mediterranean for convoys. We had six turning points and on the third turn there was a convoy of six ships so we opened up on them and sank three and got near misses on two others. The smoke from one tanker came almost to our level which was twelve thousand feet so it must have been a big one.
The convoy was about 20 miles off the coast of Tunis and it took 5 hours to make the trip.
March 17, 1943
Another bad and nothing to do but play cheap poker.
March 20, 1943
Been standing by all day for a mission, but it never did come through so another day wasted.
We finally got an airplane today. It came from the 97th and it already has over 30 raids on it. Since Thomas is pilot on 82, I have a good chance of getting it for myself and my old crew.
March 21, 1943
The B-17's were really operating today, first, one group of the 97th took off this morning and second, a group from the 301st took off behind them.
This afternoon the same thing happened. All flights were on airports near Gabes. Frag bombs were used.
I was flying as Lt. Biesel's co-pilot.
The flight was rather easy. The 97th was in front of us and caught all the flak.
March 22, 1943
Briefed at , off at , left the field at , over the target, Palermo and Sicily, at . Our target was dock and shipping yards and the job was well done. We hit something, most likely an ammunition dump, that caused such an explosion that we felt it at 24,500 feet.
Before we left the target area smoke was already about 15,000 feet. The minute the explosion occurred all the anti-aircraft guns stopped firing and didn't start again until we were far away from the target area.
I led the second element of the lead squadron with Thomas as my co-pilot.
All that is good, but we also had a loss. Jimmy Hare was shot down and exploded in mid-air. Five chutes were seen to open.
Boy, am I tired??
March 23, 1943
The pictures of yesterday's raid just came in and there is absolutely nothing left of the harbor. There was at least six boats and they were all sunk or badly damaged because there were hits on or close to all of them.
This was our day off, so I haven't done anything, just fool around the plane a little this afternoon.
March 24, 1943
The General came over and before we knew it we were at briefing and off the ground by for a raid on Bizerte. The bombardier's say the target was well taken care of.
I flew 23rd in the second element of our squadron so that put me very last man in the formation. T. C. Green was my co-pilot.
This is the first time our squadron hasn't led the group in a long time.
The mission was fairly easy compared to some of the others. There was a little flak but it was inaccurate so no one was hurt.
It was short but I'm tired as usual. We were back on the ground at .
March 26, 1943
I have really been taking it easy today. Missed out on the mission over Sardinia. Washed my pants and shirt in 100 Octane gasoline. That is the only method of dry cleaning we have.
The boys didn't drop their bombs because of overcast but they got hell by enemy fighters. No one was lost or hurt.
March 27, 1943
Took my plane up for a test hop today and went down and gave the nurses a good buzzing. It runs like a top.
March 28, 1943
Learned today that our plane has to have an engine change. Number three has a bad cylinder in it and it's easier to change engines completely than it is just to put in a new cylinder.
March 31, 1943
Missed out on the biggest raid that has ever been pulled in North Africa. The 97th, 301st, and 99th put up 94 planes today and went to Sicily to bomb docks and airports and they say a good job was done. I hate to miss those kind.  Colonel Walker came down and led the group.
April 1, 1943
We were briefed at for a raid on Sicily but it was called off because of weather. So Hart and I flew my plane for an hour to put some slow time on #3. This afternoon Fred went with me for two more hours to give it a real test after the mechanics had checked it over and it is ready for missions after so long a time.
April 2, 1943
The group had a dance last night and invited the nurses over that are stationed about 20 miles down the road. These Arabic names get me. As usual the 419th took over and made the party much to the disgust of the other squadrons. It broke up early because we have a mission scheduled for tomorrow. Everyone had a good time and got a lot out of our systems besides.  I got a sleeping bag today and it is tender -- Oh Boy!
April 3, 1943
We were briefed again at this morning for another trip to Sicily and again it was called off because of weather -- so another day was spent with nothing accomplished but more sleep and rest.
April 4, 1943
We knew last night that a good one was scheduled for today, but we had no idea that it was gonna be what it was.
Briefed at , off the ground at and left the field at leading the 99th and the 97th. The 419th led again with Colonel Quick, I led the second element.
Our target was an airdrome at Naples, the other two groups bombed docks and shipping. We didn't have any opposition except a hell of a lot of flak. All ships returned safely. Over the target at and back home at . We were at altitude only about 1 hour and 45 minutes the whole time. The rest of the time we were right down on the deck of the beautiful blue Mediterranean to keep the enemy's radar from picking us up.
April 8, 1943
This was supposed to have been our day off and everyone was lying around taking it easy when right at lunch time an alert was called for briefing. The planes weren't even loaded but were in an hour. So we were briefed and off the ground at to bomb a convoy that the 97th missed entirely this morning. When we found it, it was just off the coast of Bizerte and there we were at 10,000 feet which was our bombing altitude. We were attacked by fighters on our bombing run and the flak was intense and very accurate, but our bombardier, Chenney, picked out one and let it have a full load. When we looked back it was a solid mass of flame and sinking. One other ship of the four was hit. Three men were injured but not serious and everyone got back. The blast from the explosion of the ship that Chenney hit was so great that it buckled our right wing and sprung the flap control so we had to land without flaps which isn't very comfortable in a B-17. We were hit by one burst of flak but very little damage was done. Those are the kind you remember.
April 11, 1943
We were briefed for a raid on docks and shipping at Sicily but it was cancelled and at we were briefed again during a red alert to bomb an ocean liner in the Tunis harbor.
Our squadron led the group with Col. Quick in the lead ship. I flew #12 with Hart as my co-pilot.
The mission was short (three hours) and the target was well hit and believed to be sunk.
Tunis has lost its power because very little flak was thrown up and not a single fighter was seen except a high cover of spitfires.
Everyone returned safely. As usual the Red Cross served us hot coffee and doughnuts when we landed.
April 12, 1943
Boy this has been a long day. We were awakened this morning at , had breakfast at 4, briefed at 5 and off the ground at 6 to bomb a convoy off the coast of Tunis.
I'd like to have the son-of-a-gun by the nap of the neck that planned the route. We can't find out but whoever it was he sure had his head way up. He put us right between the two most heavily defended cities in North Africa, Bizerte and Tunis at 15,000 feet, and they threw up everything but the kitchen sink. A navigator in another squadron got a piece of flak through the neck and was killed instantly. For the first time I saw 20 MM cannon shells bursting from every enemy fighter. Besides all that we missed the target completely. Spent the rest of the day sleeping, playing volleyball, and just got back from a show.
April 13, 1943
There isn't much to say about this one except that it was long and tiresome. Our target was an airdrome at Sicily. There was from 70 to 100 planes on it and I'd be that there isn't over 25 of them intact right now. It was well covered. We lost a plane, it was hit in the left wing by flak and caused it to catch fire. Four chutes were seen to open. I saw it roll over on its back, go straight down and after three spins it broke up into a million pieces. "Duke" Cummings the co-pilot was my classmate and Capt. Jerry Thomas, the pilot was G. R. It was tough watching them go down but we have to do it. That's the second one I've seen explode in mid-air.
I had to feather #2 engine on my plane because of a hit behind the super-charger.
April 14, 1943
Put a floor in our tent and did a away with the rugs. We used frag boxes for lumber.
I am leaving for rest camp tomorrow and it doesn't look like I'm gonna get to look for Marvin because you have to have a special order from the Commanding Officer to ride transports now, and Col Gormly refused Alex.
[Ed. Note - Marvin J. Arnett, by grandfather, was in the Seabees and somewhere in North Africa at this time.
April 15, 1942
Eked up courage enough to ask for a special order and actually got it. He even gave me transportation to Telegrma to catch a transport. Caught one to Algiers and another to Oran where I am now. The weather closed in so I couldn't get out to Casablanca.
Swenson and I went to the flickers to pass away the time.
April 16, 1943
I caught the plane to Casablanca and arrived there at , just in time for lunch. I walked into the officers mess and lo and behold there was chicken-fried steak by the platter fulls. Boy, did I eat!  Well, I got on the phone and called the Seabee's personnel office and M. J. wasn't listed and he told me that the only place he could be was at Oran so I caught the same plane back to Oran. I didn't get here until late so I'll try again in the morning.
April 17, 1943
To make a long story short, I found out that there was a battalion of Seabees at Arzew about 20 miles up the coast from Oran, so I got a jeep and drove up there. It was up there alright but Marvin wasn't in the bunch. Disgusted as hell I went back to Oran and inquired at the Navy fleet post office and asked if 8280 was listed or in the vicinity of Oran and it wasn't. That was my last bet. Somebody has lost his marbles and I don't think it's me. Being really disgusted, I gave up and caught the plane for Algiers, where I am now to spend a couple of days before going back to camp.
April 18, 1943
Walked all over Algiers just looking the city over and didn't accomplish a darn thing but tired feet and a hungry stomach.
My first night in town and it had an air raid. I never saw an air raid with so much anti-aircraft in my life. It had just gotten dark when hell broke loose. I couldn't help but go right down on the water front and watch the show and I'll never forget it. Anybody would have to be either drunk or crazy to try and fly the barrage of flak that is put up over the harbor of Algiers.
One plane tried it, but didn't get to first base. He must have been tired of living or something.
April 19, 1943
I got up this morning, had breakfast and took a stroll down the docks to see if any damage was done by the raiders last night.
Doc Speaker, Maj Coverly and I saw the fire works from a ringside seat again -- like d-- fools. April 20, 1943hadn't no more than gotten home and McLean had my name on the battle order for today. We were up at and off at to bomb an airdrome at Tunis. It was a pretty easy mission, but we would have caught h-- if we hadn't had an escort of "Spits". The sky was black with them. At we were briefed again to bomb a ship in the Tunis harbor. Well, we started taxiing out with a 20 mile a hour cross wind and were almost to the runway when our left brake went out and caused us to ground loop into a pile of gas drums. No damage was done but it made us feel bad at the time but not afterwards because the others ran into ice conditions and had to turn back. I was co-pilot to Crowell on the first one and McConnel on the second.
April 26, 1943
Brother, what a day. Off at to bomb an airport just North of Rome. We flew on the deck till we got almost to Corsica then started climbing to 23,500 feet. We were on the tail end this time but were leading when we came off the target. No one but our squadron dropped the first time so we had to stay with the others while they made another run. Boy it was a rat race if I ever saw one. The 97th bombed the same target and lost a plane because of a direct hit from flak. It went straight down and was seen to break up. My gunners only saw one chute open.  When I landed and set foot on solid earth again, I was so weak in the knees I could hardly stand up. Seven hours and 20 minutes is a hell of a long mission.  The birthplace of Napoleon is a beautiful Island with snow capped mountains.
<![if !vml]>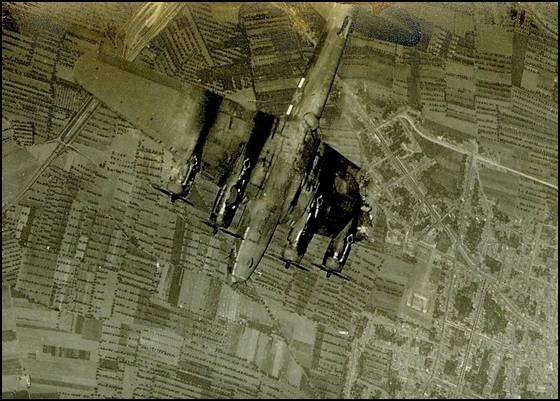 <![endif]>   <![if !vml]>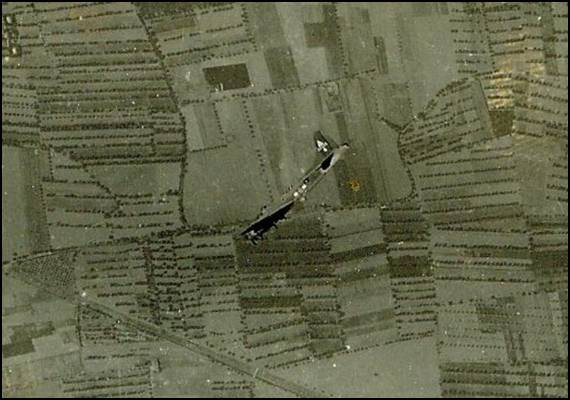 <![endif]>
Photos of 97th BG 414th Squadron Plane Going Down from Col. W.L. Ross III Photo Album (All Rights Reserved)
May 5, 1943
Well we finally got off the ground again and the weather was perfect.  We were briefed at for a sea sweep with 24 planes. We found a big merchant vessel and two small destroyers off the coast of Sicily and every plane went for the big boy. It was hit from stern to bow and right after our squadron dropped their bombs, it blew up again. We felt the explosion, but we were only at 13,000 feet this time. By the time we were five minutes from the target, smoke was above our formation. It looked like big cumulus cloud.  We had 24 P-38's for escort but there wasn't any opposition, except for a few bursts of flak that stopped as sudden as it started.  Thomas led our squadron.
May 5, 1943
Well, this has been a rather interesting day. First we were briefed for a mission this morning but it was called off. This afternoon we were honored by the presence of Capt. Eddie Rickenbacker. He is making a trip around the world visiting all the fighting forces. He told us about his experience in the Pacific and about the fighting conditions in the Pacific Area.
After his speech, Hart and I drove up in the hills for some target practice and to look the vicinity over in general. Just a few minutes ago a train load of Italian and German prisoners came through and of course the were stormed for souvenirs. They seemed very happy and were glad to get away from it all.
May 9, 1943
We were briefed to bomb the city of Palermo, the first time that we've ever bombed anything other than a military objective.  When we were about 1 hour and 30 minutes out, my number two engine went out due to maintenance default and had to turn back. It was the biggest raid ever pulled in North Africa. All four B-17 groups went out with 96 P-38's for escort. Just as we were turning back. I saw swarms of B-25's and B-26's heading in the same direction. The report is that 400 planes went over with bombs. I saw the impossible yesterday. A 97th plane crash-landed just south of our field, it was flown home with more than half of his tail cut away by another plane. The tail gunner was cut away completely and dropped over the target area. This plane ran into the props of another.
May 10, 1943
A bunch of us went to see the Roman Ruins of D'jennila and it was really interesting to. We had lunch at a Cafe up there run by an old French woman. She served us egg omelet and steak and it was wonderful. After seeing the ruins, I am convinced that the Romans were a smart race of people. We gave a farewell party for Col. Quick and Harman last night.
May 11, 1943
Another rough one chalked up and I really mean that. Our target was a town on the West Coast of Sicily and it was well covered. Thomas and I were leading the squadron but we had to let our #2 man take the lead just before we turned on to our I. P. because our bomb sight went out. When we finally got reorganized the rest of the group were miles away so we were left out there like clay pigeons for the fighters and they really gave us hell. Hart got his #4 engine knocked out and had to feather it on the run and boy, that's bad. My nerves are really shot tonight.
May 12, 1943
I took Hart to Laseni to see his brother today. Even though it was a holiday, I was in the air five hours but it wasn't like going on a mission. Hart has eight days off to spend with his bud, the lucky dog.
May 13, 1943
Another big show today and we blew the hell out of Cagllari and I don't mean maybe. All four groups went over first then two groups of mediums followed us over with an escort of 96 P-38's. It was a perfect day.  A few fighters came in but they didn't hang around very long, otherwise, it wasn't very tough only a few bursts of flak were seen.
May 17, 1943
The Group surprised us with a four-day vacation Friday for some unknown reason. We thought we were gonna have to hang around the whole four days until late Friday afternoon when Col Gormely gave us permission to take a plane to Algiers. So the 419th took off and had one hell of a big time. We just got back and I'm feeling like a million dollars after getting a lot out of my system and being in civilization for a few days.  I saw two good pictures, "Eagle Squadron" and "Yankee Doodle Dandy" also a French stage show last night that would have been good if I could have understood it. I caught the drift of it by their movements and motions though.  I'm ready to go back to work again now.
May 18, 1943
We were briefed for a raid on Messina on the eastern coast of Sicily between Italy and Sicily. Just as we started to climb we hit an overcast and the whole formation broke up. We broke out at 20,000 and planes were all over the sky. Thomas and I were leading our squadron and we thought that we tacked on to our leader but after flying around over Sicily over a solid overcast and started to let down on our saw home we discovered strange ships in the formation and came to the conclusion that it was the 2nd Bomb Group. We haven't figured out yet where or when we lost our group. We didn't get a mission but it was worth two.
May 19, 1943
Another load of Italian prisoners came through and as usual they were stormed for souvenirs.  They all want to go to N. Y. and be farmers.
May 20, 1943
Boy, what a day! Seven hours and 30 minutes in the air and 3 and a half on Oxygen.   Our target was Grosseto airdrome, 80 miles north of Rome. It was an easy mission, no fighters at all and very little flak. The second group went in ahead of us and gave it a good plastering then we came along and polished the job off. Fire could be seen fifty miles away.
I checked out another pilot today -- Richardson -- and he did a jam-up job. Our party was a flop last night as planned. There were just 10 girls for fifty officers and five of them were French girls from Setif brought over by Stelley.
May 21, 1943
Another easy one and short today only five planes. Our target was an airdrome at Sicily but there wasn't enough planes on it to bother with. We knocked out what planes were down there though. we didn't see a single fighter or burst of flak and boy that's the way I like 'em. One year ago today I graduated from Cadet school and in one year I've covered lots of territory. I've seen and done in one year what the average person, under normal circumstances couldn't do in ten years.
May 23, 1943
Briefed at , off at for docks and shipping at Terranaua. It's on the North-East end of Sardinia. All four groups were on the same target so it should have been well plastered. There wasn't any trouble except for a little inaccurate flak, but still I'm tired as usual whether it's tough or not. It took five hours and 50 minutes to make the trip.
Just got back from the rottenest show we've ever had. The days sure are long now and the nights are twice as short. The time changed again and we lose and hour's sleep in the morning it doesn't get dark until so there isn't much time left for sleep.
May 24, 1943
Just got back from Constantine. Doc London, Hart, Kuncel, Bridges, McPherson, and myself went up this afternoon just to have something to do and to keep from letting a perfect Easter Sunday go by without doing something.
May 26, 1943
Boy, this was a tough one and long. Our target was the docks at Messina -- located on the East coast of Sicily right off the toe of Italy. Our group led the other today and Thomas and I led our squadron. We didn't have much trouble except for a hell of a lot of flak, only one fighter was seen. We got five holes but none of them were vital. The 97th lost two ships, 99th two, and the 2nd one. It is reported that ten of our "P" shooters were shot down. You can bet that the target was torn to bits, though.
May 28,1943
Our target today was Leghorn Italy -- docks and shipping.  The 97th and 99th went in ahead of us and the 2nd so by the time we got there one hour later there was so much smoke that we could hardly see the target. We could see the results of their bombing over a hundred miles away because the smoke had already reached 20,000 feet. They hit the oil refinery, one of the only two in Italy, and boy did they plaster it. We could see flames coming up through the huge column of smoke. There wasn't any opposition except for a few bursts of inaccurate flak and one lone fighter that didn't come in. So other than being long and tiresome, it was easy. Thomas and I led our squadron.
May30, 1943
Our target today was the Pomigliano airdrome at Naples. All four groups went out. We and the second took care of the airdrome while the 97th and 99th plastered the docks and shipping. We've gone to Naples twice and both times it has been on Sunday. It must be shell-shocking to those poor devils to have thousands of pounds of bombs dropped on them.
There wasn't much opposition except for a little flak and a few fighters. All planes got back. I led our second element with Allison as my co-pilot. It took seven hours and 25 minutes to make the trip.
June 5, 1943
My, I really sweated this one out. It was Bridges last one and I had to go with him as co-pilot. Our target was a big warship at La Spezia, Italy, now it is like a sub.
All four groups went on the same docks and was it a mess when we left but boy, what a rat race over the target. We were all supposed to have used the same I. P. but there were planes making run's from every angle. Some even made individual run's. The mission wasn't so tough -- just a hell of a lot of "flak" but inaccurate. It might be called a "little Palermo."
It took to make the trip.
June 7, 1943
Fred, Richardson, Stelley, Maynard and my self spent the day in Setif. We were supposed to have had a private picnic of five couples but it turned out to be a reunion so it was a mess from the word go.
June 8, 1943
This is the day I've been waiting a long time for.   Our target today was the Island of Pantelleria, just off the tip of Cape Bone. It was the easiest mission I've been on in a long time and brother it was my last one in the North African Theater of Operations. I still can't believe it's true but my orders are already here. Leaving for Algiers tomorrow. Bridges and I are the first pilots off combat from the 301st Group and the first to leave.
GOING HOME
June 9, 1943
Thomas and Pete brought us to Algiers this afternoon and it was kinda late to do any operating. I've been so d-- mad all afternoon I can't think. We went to town to try to get a place to stay and the billeting officer told us that we would have to sleep in tents for transport officers at the field. These d-- feather merchants really have things sowed up in these cities, so here I am still sleeping on a cot after doing it for six months.
June 10, 1943
Boy, I'm tired, been on the go all day getting things fixed up. It seems that I am responsible for the whole bunch. First I reported to A-1 to get our orders cut. Had to have them before we could get a priority rating and transport tickets. The orders were ready at and by four we had our rating, but then came the stump.  At the air transport office they told me that we would have to wait until the 12th because all planes were full for Casablanca tomorrow. But that didn't work. Our rating is #2 and to keep from having to cancel some #3, they had to give us a special plane. So that was that.
June 11, 1943
Casablanca.  Left Algiers this morning at and arrived here at and right off the bat without eating, I got transportation to town to see about that 4600 mile ride. I reported to Maj. Foster at the transportation building and in five minutes, we were booked for passage home on the West Point.  So for the first time in three days, I don't have anything to worry about.  We went to a show (Mrs. Miniver) in town tonight and it was really good.
June 12, 1943
Casablanca.  Bridges and I spent the day in town with Alex and Wagg. They left four days before we did and are waiting on the same boat we are. I think I've finally located M. J. I saw a fellow in the C. B.'s today on the street and asked him what outfit he was in and it's the same one M. J. is in and they are going home on the same boat. Boy, that will be wonderful!
I'll know in the morning because he is supposed to call me.
June 13, 1943
Casablanca.  Marvin called me this morning at , so I went out and spent the day with him. Had lunch and dinner with him, the first two good meal I've had in ages.
June 14, 1943 Aboard the West Point  Came aboard ship this afternoon at 3:30 and have spent the rest of the time looking it over and trying to find my way around and have been lost ever since. I located M. J. right off the bat and we've been together all afternoon. It's just like a big hotel only a little more complicated. 
June 15, 1943
 Aboard the West Point.  Marvin and I have spent the whole day just killing time and at 9 P. M. we shoved off. Right now we are about 100 miles out and I'm sitting in my stateroom holding on with both hands, well one anyway, trying to hold the ship steady.  Flying a plane and riding a boat is altogether a different sensation. I'm expecting to get seasick any minute.
June 16, 1943
Aboard the West Point.  Nothing but water and it's already getting boring and yet we've just started. Marvin and I are together all the time when he isn't working. The rest of the time, I read or walk the deck.
June 17, 1943
Aboard the West Point I saw my first flying fish today. They look a lot like a spitfire with their elliptical wings. They are small and can only stay over the water a few seconds. We are still climbing that hill. Seem to be in the same place very morning when we wake up. The ship blacks out every night at and there isn't a thing to do but hit the sack and try to stay in it. No smoking is allowed any place after blackout is sounded.
June 18, 1943
Aboard the West Point Another long day and don't seem to be getting any place. There is about 8,000 people on board with only two women and 3,800 of them are Italian and German prisoners. The Italian are more or less free to do as they please, but the Germans aren't given any freedom at all and are watched like hawks.
June 19, 1943
Aboard the West Point   Still trying to get over that hill.
June 21, 1943
Nothing but flying fish and white caps. Saw a life boat adrift today.
June 22, 1943
Still sailing. The water has been exceptionally calm all day.
June 23, 1943
Found out today that we went almost to South America to avoid a submarine scare.
June 24, 1943  New York City
Landed in Boston at and were on the train and on our way here by and were in the Astor Hotel by . There isn't enough words to express how glad I am to be here.
June 25, 1943  New York City
I've been buying clothes all day and sure am tired but I have a date with a model tonight that's gotta be taken care of.
June 26, 1943  New York City
My date last night was beautiful and a lot of fun. We took in several night clubs and finished the evening at Cafe Society -- morning rather.
June 27, 1943
Wagg invited Alex and I to his home in Lambertville, N. Y. for the day and we really had a wonderful time.
Came back to N. Y. City tonight.
June 28, 1943
We reported to Mitchell Field today and had a 30-day leave within three hours but we had a hell of a lot of walking to do and boy was it hot.
June 29, 1943
Bridges and I are together. we left New York at . We couldn't get a Pullman so had to take what we could get. The train is really crowded and it's gonna be tough trying to sleep.
This brings to a close my combat experience as a B-17 pilot. The past eleven months were exciting and full of experiences that I will always remember. Some of these experiences I would like to forget -- those that brought heartaches to others.
The End
Will Seaton Arnett Ed. Note: My uncle was lucky that he was not assigned to the 8th Air Force , which took the brunt of the losses in the European Theater. If I remember correctly, about 1/4 of all American combat losses in the entire war occurred in the sky over Europe, in just three years, 1943 - 1945. He also missed out on the famous Romanian missions against the Polesti oil refineries; they were so bad that the Medal of Honor was awarded to one of the pilots. These events happened later in the war.
However I know with pride that had he been over Germany, had he been over Romania, he would have served there just as he served over France and Italy - with honor and distinction, flying bravely into the maelstrom of air combat. He might never have returned, but he would have gone in.
Men and women go into combat thinking they will get through it alive and victorious. However, there occasionally comes a time in battle when you realize that you won't make it, that you cannot possibly win. How you act in this instance is the razor's edge dividing line between a great nation and a wanna-be-great nation. It only really shows up when the odds are impossible. These days America is the only Superpower left, and many people forget what we can do when we are impossibly down. It is worth remembering; there are many images that evoke what the American fighting spirit is about.
Think: John Paul Jones continuing the fight against superior odds. Think: 182 men at the Alamo holding off 5000 enemy soldiers until the last defender was gone. Think: 15,000 men of General Picket's division charging up Seminary Ridge into annihilation. Think: Flying old and slow torpedo planes into the cream of the Japanese navy during the battle of Midway. Think: the single word "Nuts" in response to a surrender demand in the Battle of the bulge. Think: tiny destroyers and destroyer escorts engaging the entire Japanese battleship fleet during the Battle of Leyte Gulf. Think: thousands of young lives given in B17's, B24's, and B25's over the European Continent.
Think: Will Seaton Arnett, 1St Lt., US Army Air Force.
These men did an amazing thing; to fly day after day into utter terror, droning on and on through flak and fighters, unable to move to defend themselves until the bombs were dropped and the job was done. That is a special courage; that is the legacy of this country and it's fighting spirit.
pecial footnote to any future oppressors:
Whether it be in Southwest Asia, Europe, or anywhere on this globe, don't underestimate what a free American people can and will do to preserve their way of life. You won't live to regret the mistake.
DJC Editor's Note: Lt. Wm. L. Ross rotated home after 50 missions with the  97th BG 414 BS on August 3, 1943.