USS Enterprise CV-6

The Most Decorated Ship of the Second World War
United States

Pacific Fleet and Pacific Ocean Areas WWII
Admiral Chester W. Nimitz, USN, Commander in Chief
USS ENTERPRISE (CV-6) AIR GROUP              BOMBING 6 INSIGNIA
<![if !vml]>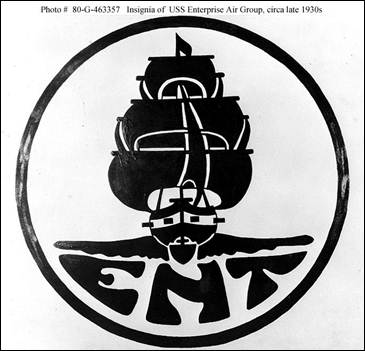 <![endif]>                            <![if !vml]>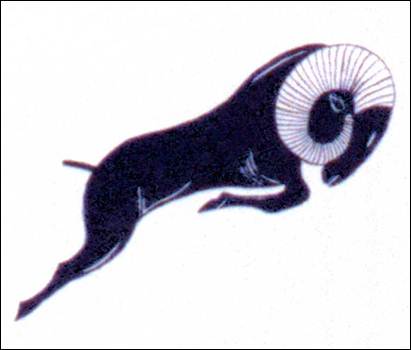 <![endif]>
Dedicated to Capt. Tony F. Schneider's Service to the US Navy
<![if !supportLists]>1942 <![endif]>Doolittle Tokyo Raid support; Kwajalein and Maloelap;
Battle of Midway; Gudalcanal;
1943 to1945 USS Yorktown Squadron Commander
under Adm. John McCain; Iwojima;
Okinawa- sinking of Japan's greatest warship Yamato;
      1945 Bombed mainland Japan off USS Lexington and Yorktown; 
Career Navy;
Douglas Dauntless SBD Dive Bomber Pilot
Site Edited and maintained by  Doug Cook.  Tony Schneider is his wife's uncle and was Col. Wm. Ross' college roommate.
Last Update August 10, 2012
<![if !vml]>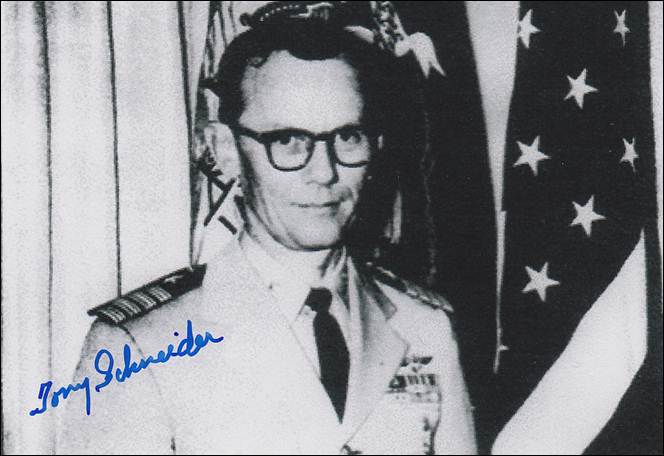 <![endif]>
Captain Tony Schneider
November 11, 1917- October 16, 2010
Obituary in Albuquerque Journal
BOMBING SIX
6B5 Lt.(jg) W.E. Roberts, A-V(N), USNR. STEINMAN, W.B., 376 01 68, AMM1c, USN.
6B6 Ens. D.W. Halsey, A-V(N), USNR. JENKINS, J.W., 372 17 00, RM3c, USN.
6B8 Ens. T.F. Schneider, A-V(N), USNR. HOLDEN, G.L., 300 09 02, ARM2c, USN.
6B9 Ens. E.A. Greene, A-V(N), USNR. MUNTEAN, S.A., 401 42 22, RM3c, USNR.
6B11 Ens. T.W. Ramsay, A-V(N), USNR. DUNCAN, S.L., 376 06 50, AMM2c, USN.
6B13 Lt.(jg) J.J. VanBuren, USN. NELSON, H.W., 382 02 50, ARM1c, USN.
6B14 Ens. N.F. Vandivier, A-V(N), USNR. KEANEY, L.E.J., 283 21 96, Sea1c, USN.
6B15 Ens. G.H. Goldsmith, A-V(N), USNR. PATTERSON, J.W., 387 23 15, ARM3c, USN.
6B18 Ens. B.S. Varian, A-V(N), USNR. YOUNG, C.R., 356 55 07, ARM3c, USN.
6B3 Ens. F.T. Weber, A-V(N), USNR. HILBERT, E.L., 382 18 65, AOM3c, USN.
Only a scant handful of veterans from the Black Rams (VB-6) survive in 1999 (time of Daniel Rush' article). One of them is the last living command officer of the Battle of Midway, Dick Best. Another was John's roommate on Enterprise, retired Captain Tony Schneider.  And another a backseat Dauntless radioman and gunner, Stuart Mason.
Tony Schneider's account to Doug Cook: 
April 18, 1942 Enterprise (Ens. Tony Scneider on board) had rendezvoused with Hornet on the Doolittle B-25 mission to bomb Tokyo.  Enroute and approaching the planned mission launch point.  Tony in scout plane"spotted a Japanese sampan and made a strafing run". Meanwhile a Japanese line of defense ship Nitto Maru was spotted and sunk by the Nashville.  The surprise approach was lost and the Doolittle mission had to take off 200 miles from their planned launch point with not enough fuel to make it to their planned landing site in China…
"When we took off from the Enterprise on June 4, 1942, the squadron had to waste fuel for an hour circling to join full formation before leaving for the search of the Japanese Task Force.  Squadron Leader Dick Best  initiated a box search and finally they saw the white wake of a Japanese cruiser. [The Dauntless has a range of about 1100 miles at a speed of 200+ mph.]  They followed it to the heart of the Japanese Task Force where Best and McCloskey and others were able to penetrate Japanese defenses and inflict fatal blows on several carriers and ships.  Tony Schneider's plane coughed and ran out of fuel (as did many others).  Tony told his rear gunner (GL Holden?) to jettison the guns as he landed the plane in the blue sea.  The guns were not jettisoned and hit the gunner in the head knocking him out cold.  Tony inflated both of their Mae West vests and the life raft and had his silk parachute for sun cover."  They were to be rescued by a PBY three days later after the great battle raged across a great distance round them.
Al Wellmam's Tribute to Capt. Tony Schneider
Courtesy of Daniel Rush and CV-6 webmaster.
<![if !vml]>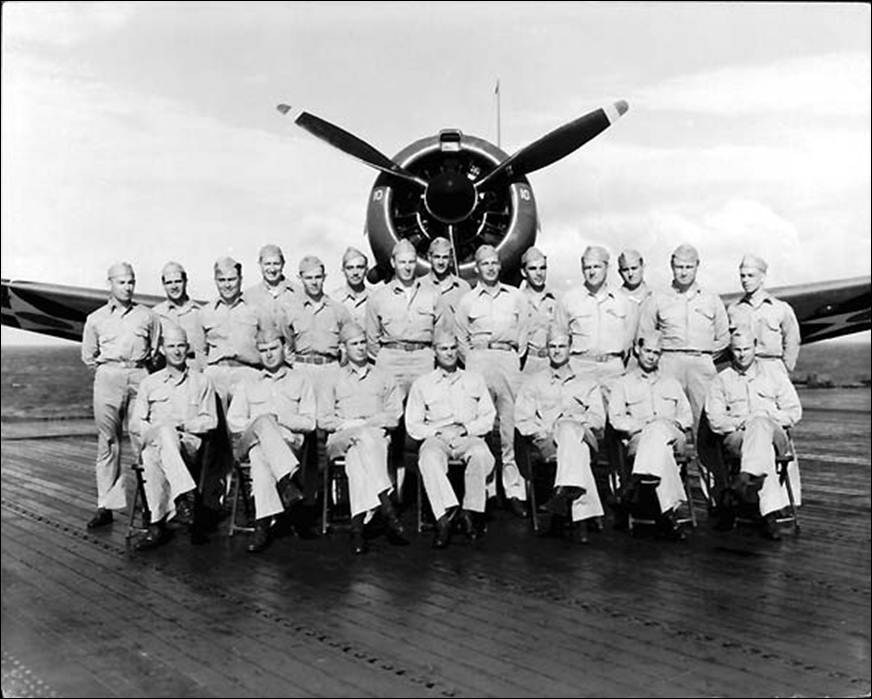 <![endif]>
Bombing Six Officers, early 1942:
Back Row: ENS Doherty, ENS Rausch, ENS Weber, ENS Halsey, ENS Holcomb, ENS Ramsey
Middle Row: LT(jg) Check, ENS Vandiver, ENS Tony Schneider, LT(jg) Kroeger, LT(jg) Anderson, LT(jg) Van Buren, ENS Walters, ENS Bill Roberts
Front Row: LT Lanham, LT Smith, LT Dick Best, LCDR Hollingsworth, LT Blitch, LT Penland, LT McCauley
<![if !vml]>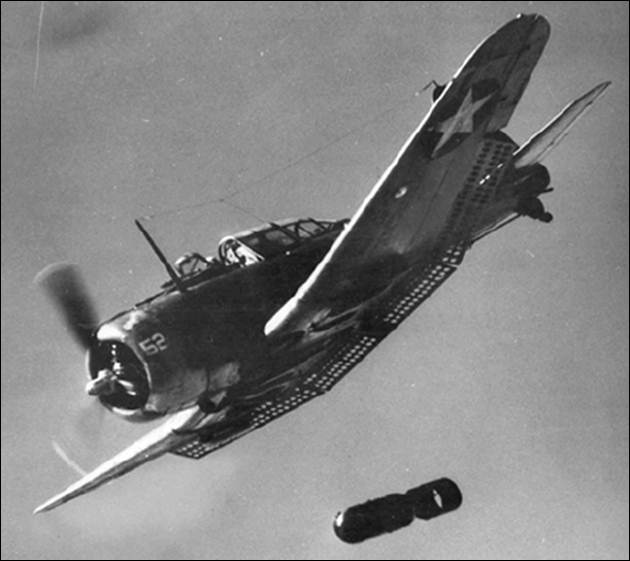 <![endif]>
The SBD Dauntless bomber was the principle Allied dive bomber in the Pacific Theater of Operations.
Image courtesy of Wickipedia
<![if !vml]>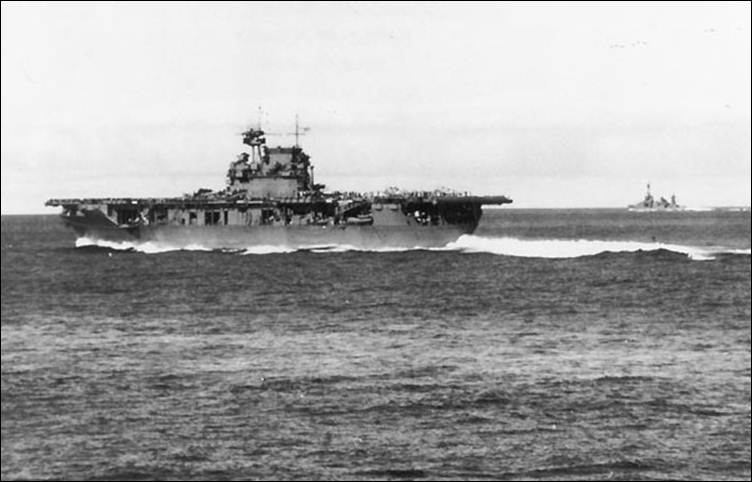 <![endif]>
While Scouting Six and Bombing Six circle overhead, Enterprise clears her flight deck in preparation for launching Torpedo Six, Battle of Midway, 4 June 1942. Though only four of the fourteen torpedo plane crews would return from this strike, VB-6 and VS-6 would destroy two Japanese carriers (and a third later in the day).
<![if !vml]>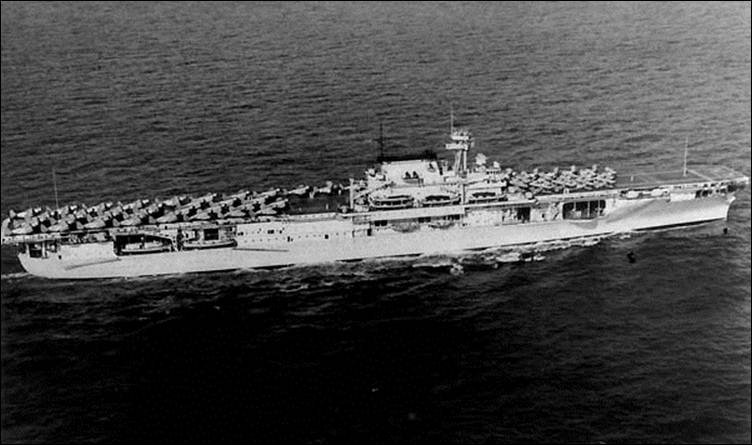 <![endif]>
Enterprise CV-6 off Pearl Harbor, 1940. Aircraft from fore to aft are F3F fighters, SBC dive bombers, BT-1 dive bombers and TBD-1 torpedo bombers.
<![if !vml]>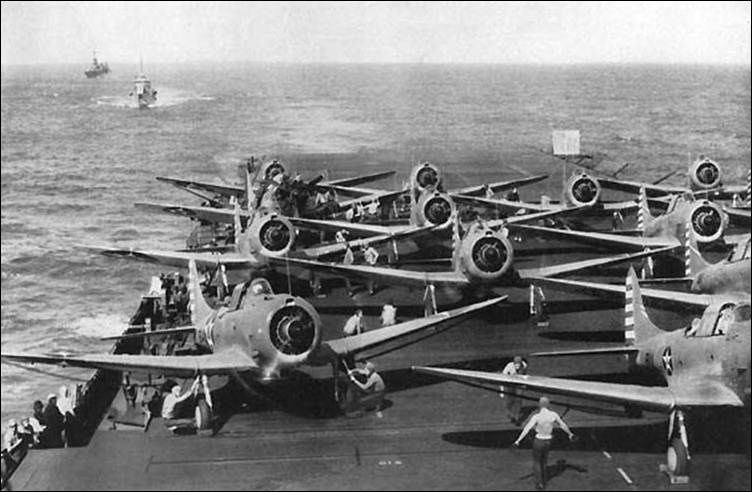 <![endif]>
Bombing Six SBD-2 Dauntless dive-bombers warm up on Enterprise's flight deck, preparing to strike Japanese-held Wake Island, 24 February 1942.
<![if !vml]>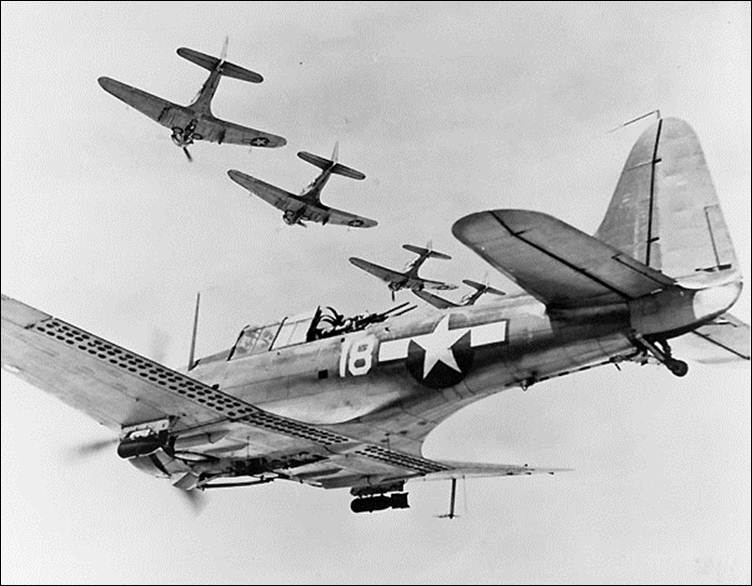 <![endif]>
Five VB-10 SBDs from Enterprise CV-6, in formation, March 1944.
<![if !vml]>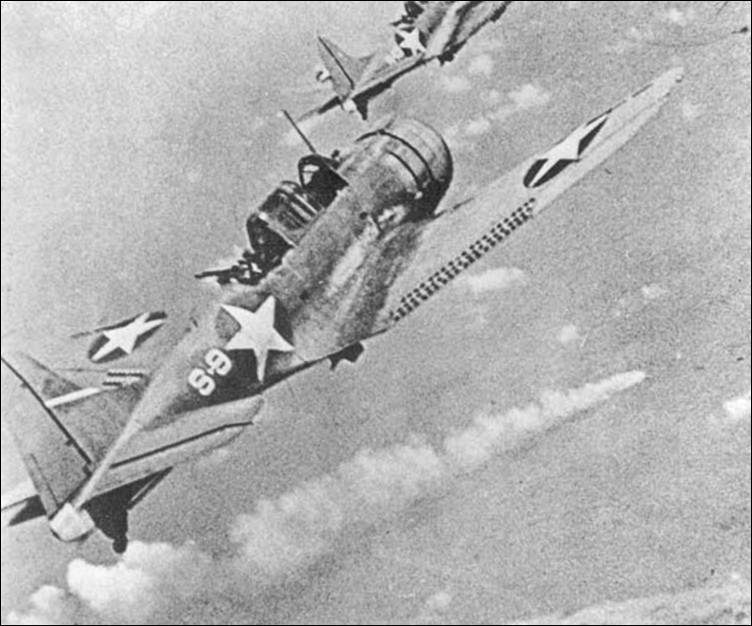 <![endif]>
Source: US Navy Archives
Two bombers from Hornet CV-8's Scouting Eight prepare to attack damaged Japanese cruisers near the end of the Battle of Midway, 6 June 1942. The burning ship is believed to be the Japanese cruiser Mikuma, which sank shortly after this attack. Mikuma's sister ship, Mogami, also heavily damaged during the battle, managed to return to Japan.
<![if !vml]>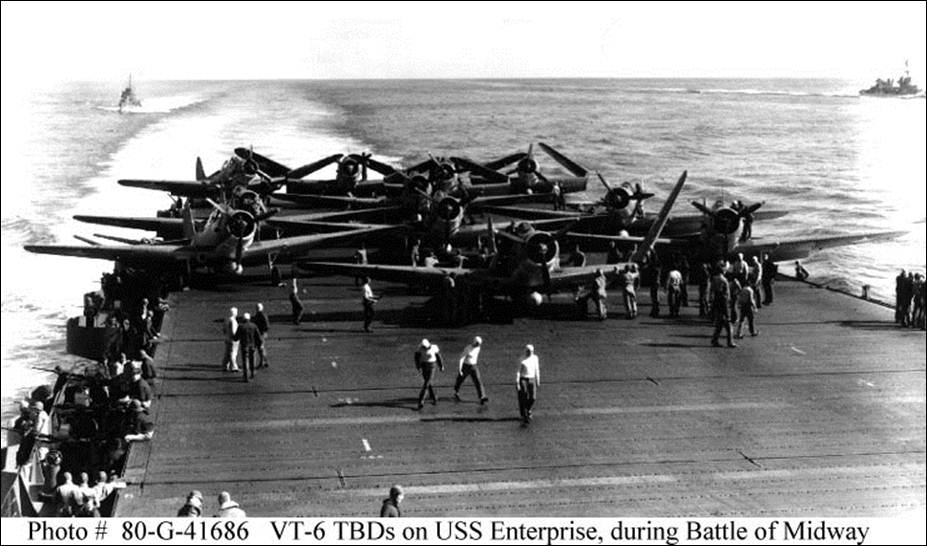 <![endif]>    
US Government file photo
Other accounts of the Battle of Midway and Capt. Tony Schneider's participation.
http://en.wikipedia.org/wiki/Tony_F._Schneider
http://www.cv6.org/1942/midway/midway_3.htm
http://www.avalanchepress.com/Midway7.php
http://www.avalanchepress.com/Midway9.php
http://usswashington.com/worldwar2plus55/dl04ju42c.htm
http://www.arlingtoncemetery.net/rhbest.htm
http://www.users.bigpond.com/pacificwar/Midway/LCDR.Best.html
http://www.aviationarchaeology.com/src/USN/LLJun42.htm
Tony Schneider's account to Doug Cook and Doug's other personal contacts :  Tony Schneider's second Navy deployment was at Henderson Field in Gudalcanal.  After this deployment he married Jean Ross, the sister of his college roommate and best man Col. Wm. Ross who on week later (August 28, 1943) married Lenore Boyd (grandparents to my daughters Haley and Madline).  Tony Schneider's third Naval deployment was on the USS Yorktown (and Lexington) as Squadron Commander (1943-1945) Under Four Star Admiral John McCain (father of Sen. John McCain).  Tony participated in the Battle of Iwojima and Okinowa as the US steadily advanced island to island to mainland Japan.  In the Battle of Okinawa, then Commander Tony Ross' squadron took part in the sinking of Japan's greatest battleship Yamato. 
<![if !vml]>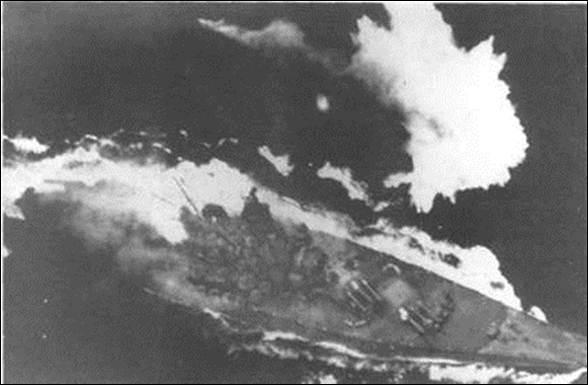 <![endif]>
Battleship Yamato sinking April 7, 1945  (US Government Archives)
[This was the US' last step before invading mainland Japan. As costly as the advance to Okinowa had been, a land invasion of Japan could have cost hundreds more thousands of American lives including the fathers of many of (Doug Cook's) friends. ] Commander Tony Schneider and his squadron bombed many military targets on mainland Japan in 1945 (e.g. Mitsubishi Aircraft Works?) prior to the decisive and "justified" A-bomb drops on Hiroshima (August 6, 1945) and Nagasaki (3 days later). [Doug Cook worked with the son ( Tom Ferebee Jr.) of the Enola Gay Bombardier Lt. Tom Ferebee. Lt. Ferebee was proud of his participation in it that saved so many American lives and brought WWII to an end.]  Commander Tony Schneider was thankfully back home in the States by VJ Day but continued his Navy career to retire as Captain TF Schneider.